Warning: Read Shadow and Bone before proceeding. I'd hate to spoil this amazing book for you, but I will. That's just the kind of gal I am.
Truth time: It took me over a month to finish Siege and Storm, the second book in Leigh Bardugo's Grisha trilogy. This is not a commentary on how great the book was. The book was just as wonderful as I expected it to be. No, the fault lies with me, my book fair, and the general craziness that comes with this time of year. Honestly, I'm shocked that I found the time to finish the book yesterday.
Anyhoo…I did manage to finish Siege and Storm, and this second installment takes us further into Alina Starkov's world and her place as the Sun Summoner. Those of you who've read the first book know that Alina has escaped the Darkling after his massacre on the Fold (and her part in it), and she's now on the run with Mal. Well, what little peace these two have managed to find is about to come to an end…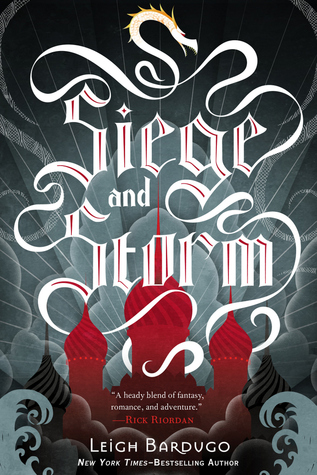 After their close call with the Darkling and his allies, Alina and Mal are in hiding. They're trying to find their place in a new land, working for pittances and attempting to keep their identities a secret…but at least they're together. On some level, they know that they won't stay hidden for long and that the Darkling–who they know did not perish during the horrific events of the Fold– will catch up to them eventually. That reckoning is coming sooner than they think…
What Alina and Mal couldn't realize is that the Darkling has now tapped into a frightening new power, a darkness they are nearly incapable of fighting. He's caught up with Alina and Mal, and he seeks to bind Alina more closely to him than she ever was before. But how? What more could the Darkling do to her, and is there anything–or anyone–who will stop him?
Alina and Mal receive the help they so desperately need in the form of Sturmhond, an infamous privateer who is keeping secrets of his own. Why is Sturmhond willing to go up against the Darkling? What is he hoping to gain from an alliance with Alina and Mal? Exactly what is this mysterious figure hiding?
Alina and company are growing ever closer to a showdown with the Darkling and his forces. Alina is doing everything in her considerable power to make sure they emerge victorious, but will it be enough? Can she rely on those closest to her, or are they working on their own agendas? And why is Alina still so drawn to the Darkling and the power he wields? Is she becoming like him? If so, what could that mean for her relationship with Mal and those who look to her for hope?
Join Alina in her continuing battles with the Darkling and the darkness within her own soul when you read Siege and Storm, the powerful second book in Leigh Bardugo's Grisha trilogy.
_______________
There's so much going on in Siege and Storm that I know I've left out huge chunks of what happened. If I really delved into everything that occurred, this post would take me hours upon hours to finish. (As much as I love this blog, I don't have that kind of time.) You'll simply have to read the book to really appreciate everything Alina, Mal, and friends face in this book. I can tell you that it's definitely whetted my appetite for the no-doubt thrilling conclusion, Ruin and Rising (which I hope to get to sometime during my upcoming winter break).
If you're still not convinced to pick up Siege and Storm (and the rest of this series), take a look at Fierce Reads' book trailer below. It's pretty great.
For more information on The Grisha trilogy and other works by Leigh Bardugo, check out her website and connect with her via Twitter, Facebook, and Instagram. Enjoy!