If you've read Fangirl by Rainbow Rowell, you've already been introduced to the characters of Simon Snow and Baz Grimm-Pitch. These two characters are the subjects of Cath's fanfiction in Fangirl. In Carry On, Rowell graciously gives readers the story Cath was working on. Now, it's not totally necessary for you to read Fangirl to follow what's happening in Carry On, but I do think it helps.
*I hope the paragraph above makes sense. It does if you've read Fangirl. It may not if you haven't. Of course, it's pretty easy to remedy that situation.*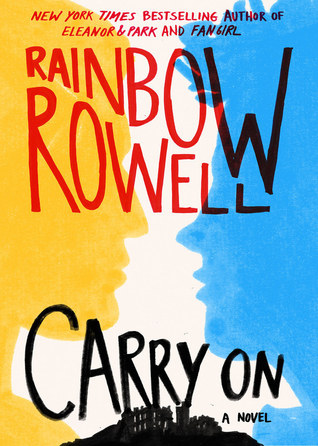 Simon Snow is, by all accounts, the Chosen One. It doesn't seem to matter that his magic is unreliable at best and totally explosive at worst. The leader of all mages–called the Mage, obviously–is sure that Simon will save the World of Mages. Simon isn't all that convinced. (Neither is his roommate, Baz.)
Simon is starting his final year at the Watford School for Magicks, and he's fairly certain that he'll have to battle the Insidious Humdrum, the strange figure who's creating holes in the magical world, at some point this year. (Simon has no clue how he's supposed to win against this guy.) He's also worried that he and Baz are probably going to end up killing each other. That is, if Baz ever shows up.
When the new school term begins, Baz is nowhere to be found, and Simon becomes obsessed with figuring out what's happened. There's simply no way Baz would voluntarily miss his final year at Watford…or any chance to torture Simon. Does his disappearance have something to do with the Humdrum or the increasing negative feelings about the Mage? Could it be related to Baz being a vampire (which he has never actually admitted to Simon)? Or could something more be going on? Whatever's happening, Simon needs to know where Baz is…and what he's up to.
Soon, though, Simon has one less thing to worry about. Baz returns to Watford. Why was he gone? Well, that's sort of complicated.
"Complicated" is the perfect word to describe nearly everything about Baz's life. He's a vampire, he's returning from being kidnapped, he's trying to find out who killed his mom, his infuriating roommate has more magic than anyone in the world (but doesn't really know what to do with it), his family is working against the Mage, and…oh, yeah…he's in love with Simon. How could he possibly fall for someone he doesn't like most of the time and may have to destroy in the near future? Well, the heart wants what the heart wants…
Eventually, Simon and Baz realize that they'll have to form a truce and join forces to discover what's really going on in the World of Mages…with the Mage, the Humdrum, all of it. Can these two work together without killing each other? Will Baz reveal his feelings for Simon? How does Simon truly feel about Baz? Is there hope for the future when the World of Mages is in so much turmoil?
Only one thing is certain: It's going to be a very interesting year at Watford.
_______________
I love this book so hard. (This is true for every Rainbow Rowell book I've read.) The dialogue is compelling, the mysteries are intriguing, and the characters are wonderfully complex. And I haven't even mentioned the delightful love story…
Those who've read Fangirl (or any of this post) likely already know that Carry On features a developing relationship between Simon and Baz. This is commonly known as slash fic, and is very popular in fanfiction writing. If you ever wanted Harry Potter to end up with Draco Malfoy instead of Ginny Weasley, definitely give Carry On a try. It's a very sweet love story, but there's enough danger, magic, drama, and even humor to satisfy all readers (even those who don't particularly like slash fiction).
As I wrap this post up, I realize that I haven't begun to express just how wonderful Carry On really is. I don't know if I can. Read it for yourself. Hopefully, you'll love it as much as I do.
If you'd like more information on Carry On and other books by the absolutely fabulous Rainbow Rowell, check out the author's website or connect with her on Facebook, Twitter, Tumblr, or Instagram. You may also want to check out the video below. It features Rainbow Rowell herself talking about Carry On at Book Expo America.