If you're going to read a book about a school shooting, it's not a good idea to do so while you're sitting at school after hours. It's anxiety-inducing. Of course, I don't know that any book about such a horrible topic wouldn't be anxiety-inducing even in the most calming of environments. At any rate, my reading environment–and my choice of profession–definitely colored my feelings of This Is Where It Ends, a disturbing, stunning, and timely debut novel from author Marieke Nijkamp.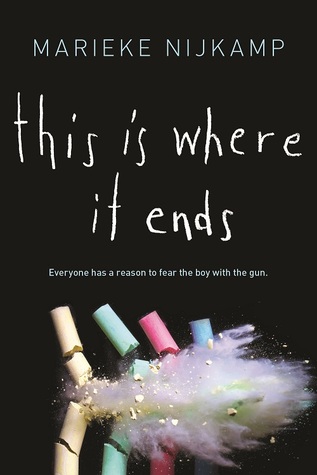 It was supposed to be a normal day at Opportunity High School. Students returning from winter break, listening to the principal's standard new semester speech, and then moving on with their days. But nothing about this day is normal. When the speech is over, and students get up to leave, the auditorium doors won't budge. Everyone is locked in. What is going on?
It quickly becomes evident that the students and teachers at this school are now at the mercy of Tyler, a kid with–in his mind, at least–nothing to lose. He feels alone, and he's convinced that everyone in his life has turned their backs on him. They'll remember him now. He'll have his say and get his revenge on the school and the town that he thinks abandoned him.
Tyler's sister, Autumn, and her girlfriend, Sylv, are in the midst of the terrified students and teachers in the crowded auditorium. Autumn can't believe this is her brother, her protector. Sure, he's got a dark side, and the past several years haven't been easy on their family, but she never believed he could possibly do something like this. Sylv, on the other hand, knows firsthand about the darkness within Tyler. She's seen the evil in his eyes, but she never revealed the truth of his heinousness. Can either of them do anything now to stop Tyler from taking more innocent lives?
Outside the auditorium, Sylv's brother, Tomás (who was otherwise occupied when the shooting began), is working to find a way to his sister and everyone else in the auditorium. He and his friend, Far, are doing whatever they can to help the survivors escape. Yes, both of them are putting themselves in the line of fire, but they have to do something. Will it be enough?
Claire, Tyler's ex-girlfriend, is also outside of the school. She was at track practice when the first shots were heard, and she's attempting to get help while reflecting on her relationship with Tyler and the incident that ended it all. Until she's presented with the evidence of Tyler's actions, she can scarcely believe that the boy she once loved is capable of such atrocities. If she'd stayed with him, would he have still done this?
Autumn, Sylv, Tomás, and Claire are all wondering if there's something they could have done or said to prevent the horror that this day has brought. What can they do to get out of it now? Can anyone reason with Tyler, or is he too far-gone to be helped? What led to this nightmare, and who will remain standing when it's all over? And can an event as terrible as this one ever be truly over for anyone?
_______________
As much as the subject of This Is Where It Ends unnerves me, the book itself is a gripping read that I couldn't put down. It features a diverse cast of characters, and is a great pick for reluctant readers. Would I put it in a middle school collection? I'm honestly not sure. If your library serves middle grade readers, you may want to read this one for yourself to determine if your patrons can handle it. Many may not be able to. (To be perfectly honest, this book may be too much for some older readers…including educators.)
This Is Where It Ends will be released on January 5th, and I think it will be a popular read in many YA collections. As horrifying as the subject matter is, it does reflect something that, while uncomfortable, could be all-too-real for some. Considering what's going on in the world right now, it is especially timely, and exploring a topic like this through fiction is a safe way for readers of all ages to examine their own feelings and think about what they might do if faced with a similar situation. (Given that we now go through active shooter training at the beginning of each school year, this is something that we have to think about anyway.)
If you'd like more information on this book and author Marieke Nijkamp, visit the author's website. You can also connect with the author on Twitter, Tumblr, and Instagram.
Finally, I'd like to thank NetGalley for giving me the opportunity to read this book before its release. It definitely made me think.