As of this afternoon, I've now read four of April Henry's books. In addition to The Girl Who Was Supposed to Die, I've read The Night She Disappeared, The Body in the Woods, and Torched. All of these books have convinced me that April Henry is one of my go-to authors for YA suspense. These books are fast-paced, thrilling reads that captured my attention and wouldn't let go…and they're all perfect when it's gloomy and grim outside and you want a book to match that feeling.
The Girl Who Was Supposed to Die, which has been out for a couple of years now, is probably the quickest read of all of the April Henry books I've read. The chapters are short, but they pack quite a punch…as does the book's protagonist.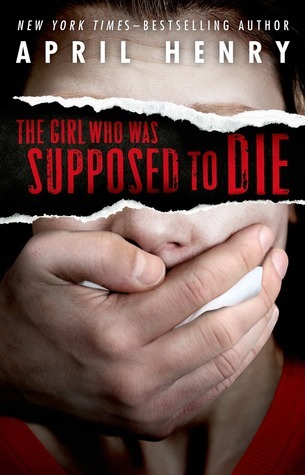 She comes to in a cabin. She doesn't know where she is, what's happened to her, or how she got here. She can't even remember who she is. All she knows is that two men are standing over her, and it's crystal clear that they intend to kill her. Why? What exactly do they think she knows?
When opportunity strikes, so does she. She does what she must to get free of one of her attackers, and she's amazed at the defensive skills she displays. Where did she learn these skills…and why would she need them in the first place?
She's now on the run, and she doesn't know who to trust. She simply knows she must find some way to access her memories, no matter how painful they may be. With killers closing in and the possibility of being framed for heinous crimes, this girl needs to find help…fast.
Help comes in the form of Ty, a young man working the late shift at McDonald's. He recognizes something in this girl that he's experienced himself: desperation. Even though it could cost him his very life, he offers assistance and works to help her uncover the truth…about herself and the terrible circumstances that have led to this horrific, unimaginable situation.
As the truth comes to light, this girl–whose name is Cady–finally understands what's going on around her: why she's a target, what's happened to her family, and why those hunting her must be stopped. It's not just her life on the line. The fate of the entire world could be at risk.
Can one teenage girl and her unexpected companion possibly stop someone who's willing to put the entire world in danger in the name of greed? Just what will become of this girl who was supposed to die?
_______________
I feel like I've given way too much away here, and I apologize for that. I didn't mention several of the major points in the book, so there are still a few surprises in store for those who choose to pick up this thriller. I would recommend the book to any middle grade, YA, or adult reader who is in the mood for a good mystery or suspense novel.
All that being said, I did have one issue with The Girl Who Was Supposed to Die. In my humble opinion, the ending was a little too abrupt. It seemed like there was a ton of build-up, and–BOOM–it's over. Maybe I'm the only one who feels that way. Read the book for yourself, and let me know what you think.
If you'd like more information on this book and other mysteries by April Henry, check out the author's website. You can also connect with the author on Twitter and Facebook.