It is highly recommended that you, at the very least, read the first three Selection novels (The Selection, The Elite, and The One) before reading the Happily Ever After collection. Most of the stories will be all kinds of confusing if you don't. Get to it!
After finishing The Heir a couple of days ago, I just couldn't let go of the world Kiera Cass created in her Selection series, so I decided to finish up the novellas included in Happily Ever After. These stories include a few I'd already read in ebook form, but I ended up rereading a couple because I forgot what happened (and because I neglected to write posts on them).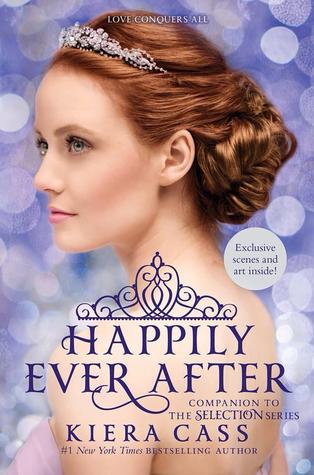 Like I indicated at the beginning of this post, each of these stories is best approached after already becoming familiar with what happens in the first three novels in the series. I'll try to explain why as I we go along. Let's get started…
The Queen (Selection #0.4)
I actually did manage to do a short write-up of this novella, and you can read that here. Even though The Queen serves as a prequel to the entire series, I would read it after finishing The One so that you can adequately compare the characters of Amberly, America, Clarkson, and Maxon. Each of the characters is very different, and they all approached hardships in varied–and not always positive–ways.
If you're curious, I still think King Clarkson is a butt-faced jerk.
The Prince (Selection #0.5)
This is one of the stories I re-read so that I could remember exactly where it fit in the Selection timeline. The Prince, obviously, is told from Maxon's perspective, and it takes place both immediately before and during the first days of his Selection. I would say that this story can be read after finishing The Selection.
The Prince provides an interesting look into Maxon's rather tense dealings with his father, his feelings on the Selection as a whole, and his earliest interactions with America. In this story, Maxon also struggles with the very concept of love. If he can't feel anything for a girl who he's known forever and professes her love for him, how can he possibly grow to love one of the thirty-five girls chosen by his overbearing father, all in a matter of months? Luckily, his mind is somewhat eased fairly early on.
I think it's clear to see in this story that, for Maxon, the winner of his Selection was decided before the competition even began.
The Guard (Selection #2.5)
The Guard, told from Aspen's perspective, should be read after finishing The Elite.
If you're at all familiar with this series (and by this point, you should be), you know that Aspen was America's first love back in Carolina, and he's now a palace guard. Both he and America are still very close, and Aspen is trying to envision a future where they can be together…even as he sees America winning the heart of the future king.
While Aspen is looking for any stolen moments with America that he can find, another guard and a Selection contestant are caught in a compromising situation. The consequences of their actions make him think about his relationship with America and how far he'll go to keep her in his life. Is he willing to risk everything? Is she? (If you've already read the first three books, you know the answers to these questions, but it's still fun to see things from Aspen's point of view.)
The Favorite (Selection #2.6)
This story, which I read for the very first time this morning, might be my favorite (Ha!) of these short stories. It focuses on Marlee, America's closest friend in the competion. This girl managed to make it to the Elite round of competition for Maxon's hand…before she threw it all away for love.
The Favorite begins immediately after the Halloween party (seen first in The Elite) that changed everything. Marlee and Carter, a palace guard, were discovered with each other, and they're now in the palace cells awaiting their punishment. Marlee is certain they'll be sentenced to death, but they are to be publicly caned and virtually exiled instead. As long as she and Carter can be together, Marlee is willing to take whatever punishment the King dishes out.
Marlee is unprepared, though, for just how vicious this caning actually is. The fact that her family is forced to watch doesn't help the situation. Through it all, though, Carter is there with her, professing his love. And, even though she doesn't realize it at the time, her friend America–and even Prince Maxon–are there for her at what seems to be her lowest point. With Carter by her side and good friends who'll move heaven and earth to help her, Marlee feels like she's won something more precious than a crown.
_______________
Okay…so those are the four major short stories in this collection. But wait, there's more! Happily Ever After also includes several extras that are worth a mention:
Endpapers that feature a map of Illéa. This map clarifies a few things for me. Also, I really like geography, so I enjoyed comparing this map to the current map of North America and figuring out why places were redrawn and renamed the way they were. (Yes, I know this makes me even more of a nerd than some of you probably thought. I'm okay with that.)
Lovely illustrations peppered within each story.
Several scenes from Celeste's perspective. These were particularly enlightening, given that I loathed Celeste for most of the series. She really grew from the spoiled, entitled girl we first met into someone who would do whatever she could to redeem herself.
The Maid. Told from Lucy's point of view, this story gives readers a look into this girl's budding romance with Aspen. Lucy, who serves as one of America's maids, is worried that Aspen can never let go of his first love. It's up to Aspen to convince Lucy that she's truly the one for him.
After the One. This story is an epilogue for The One and, obviously, should be read after finishing that book. It is very sweet and serves as a great lead-in to The Heir.
"Where Are They Now?" Updates on three of the Selection candidates and what happened to them after this huge chapter in their lives came to an end.
All in all, Happily Ever After is a must-read if you're a Selection fan. I thoroughly enjoyed it, and I'm glad I spent this last day of 2015 immersed in this world. For more on all things Selection, visit Kiera Cass' website.
With that, I bid you adieu. I hope everyone has a fantastic New Year's Eve. Be safe out there, and be sure to come back here tomorrow for my year in review, my reading resolutions, and the books I'm most looking forward to in 2016. Happy New Year!