Caution: If you haven't read The Iron Trial, the first book in the Magisterium series by Holly Black and Cassandra Clare, do that before continuing with this post. Also, if it's been over a year since you've read book one, give it a quick once-over before proceeding with The Copper Gauntlet. (I wish I had.)
I decided that my first book of the new year should be one that I've been meaning to get to for a while. Truthfully, I'm shocked at myself that I didn't devour The Copper Gauntlet the minute it came out. (It's no big secret that I'm a Cassandra Clare fangirl.) This second book in the Magisterium series was released on September 1st, and it's been staring at me reproachfully from the top of my TBR pile ever since. Thankfully, I've now taken care of that little problem.
Since it had been a while since I read The Iron Trial (November 2014), I had forgotten much of what happened in that book. (I'm serious about doing a brief re-read before starting book two.) For that reason, it was a little difficult for my reading of The Copper Gauntlet to pick up momentum at first. Once I got into it, though–and was reminded of the events of the first book–things really got moving, and I was just as invested in this book as I was its predecessor.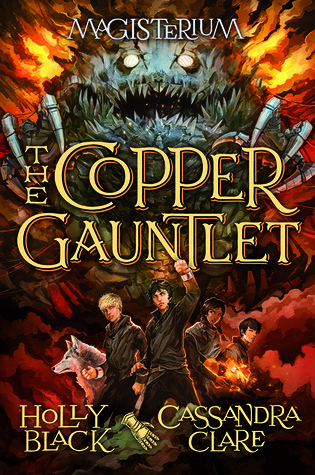 Callum Hunt isn't what one would call a normal kid. Sure, he's spending the summer at home with his dad, playing with his dog, and getting ready for another school year, but that's not exactly the whole story.
See, Call is about to enter his second year at the Magisterium, a school for mages, a school that his father absolutely loathes. Also, his dog is actually a Chaos-ridden wolf named Havoc, and this pet could do some serious damage if he really wanted to. Finally, Call might just be the vessel for the Enemy of Death (the big, bad guy in the world of mages). Yeah…Call threw "normal" out the window a while ago.
When Call discovers that his father has some disturbing, dangerous plans for both Call and Havoc, he runs away to the only home he has left…the Magisterium and the friends he's made there. He finds refuge with his friends, Tamara and Aaron, but he doesn't reveal his deep, dark secret to them. They wouldn't understand the whole "I actually possess the soul of the Enemy" thing. Call barely understands it himself. There has to be more to him than he's been led to believe, and he'll do whatever he can to convince himself that he won't turn out to be an Evil Overlord.
When the Alkahest–a powerful copper gauntlet–is stolen, Call knows it's up to him to find this magical object and return it to the Magisterium. Why? Well, his father may have something to do with it, and Call needs to get to him before either the Magisterium or the minions of the Enemy do. (Also, the Alkahest could be used to destroy Call and his best friend, Aaron. No pressure there.)
Of course, Call can't possibly get away without his friends and Havoc (plus one more kid he can't stand), so he goes on the run with some company, and, as one might imagine, the group finds more trouble than they ever expected.
_______________
I'm going to stop before I give too much more away. I will tell you, however, that for every question answered in this book, dozens more pop up. There is some resolution at the end of The Copper Gauntlet, but, given that there are three more books to go in this series, we can deduce that it won't last.
Speaking of future books, the next installment, The Bronze Key, is expected to be released in September of this year. Book four, The Golden Boy, will be out in 2017, and the final chapter, The Enemy of Death, is expected in 2018. Lots to look forward to.
Like The Iron Trial, I think The Copper Gauntlet is a great read for those in upper elementary grades on up. Fans of Harry Potter and Rick Riordan's books will delight in this series…and will surely make some interesting comparisons. (The similarities between The Magisterium and Harry Potter are undeniable.) I added this book to my own elementary library collection, and the response has been nothing but positive.
For more information on The Iron Trial, The Copper Gauntlet, and the rest of the Magisterium series, visit the official website. It's got lots of interactive goodies that you may enjoy.
Now, I must leave you. (Not for long, so no worries.) I return to the "real world" tomorrow, and I have one day left to do all the stuff that I meant to do during my two week break. I can hardly contain my joy.*
*Where's a sarcasm font when I need one?