I decided to read Everything, Everything by Nicola Yoon on a whim. It wasn't on my to-read list. It was barely on my radar. Basically, it was the first available book I saw when I logged onto Overdrive the other day. (By the way, if your school or public library offers Overdrive, USE IT! If they don't, ask for it. It's awesome!) I read the synopsis and said to myself, "Why not?" That impulse served me well.
Everything, Everything, which has been out for a few months now, is a quick, easy read, but it does pack an emotional punch. It's a great piece of contemporary YA fiction, and I think it will find an audience with fans of  wonderful authors like Rainbow Rowell, John Green, Stephanie Perkins, Gayle Forman, and many others. Also, I think it's pretty great that the main character, Madeline, comes from a background that we don't see a lot in books for teens. (Her mom is Japanese American, and her dad is African American.)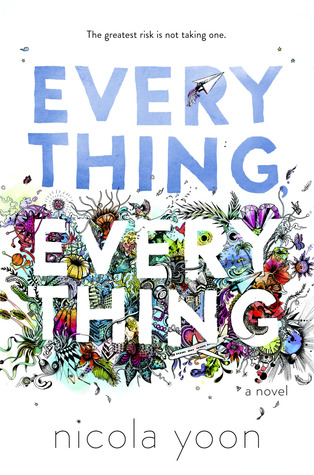 Madeline Whittier may as well live in a bubble. Seriously. Madeline has SCID (severe combined immunodeficiency), so the least little thing could make her extremely sick. She can't remember the last time she left her house, and her only human interaction is with her mom and her nurse.
It's not all bad, though. Madeline reads all the time, she has game nights with her mom, and she can connect with the world online. She's never really known anything different, and she's (mostly) accepted that this is her life.
All of that changes when she hears the moving truck next door. With one look out her window, Madeline knows that her life will never be the same. One glimpse at Olly is all it takes. (And the feeling seems to be mutual.)
They start out just looking and gesturing at each other through their bedroom windows. (Nothing creepy, I promise!) They then progress to texting and emailing. But soon that's not enough for either of them. They want to meet in person. But how can they when Olly would have to get past Madeline's mother and undergo a fairly extensive decontamination process just to get in the door? Well, as it turns out, Madeline's nurse can be persuaded to keep a secret…
It doesn't take long for Madeline to realize that she could be in some serious trouble with Olly. Her growing feelings for him–and his for her–could turn out to be very inconvenient. Aside from the fact that her mom would freak out if she knew of their relationship and his visits, Madeline doesn't see how they can have a future together with her illness getting in the way. It's not like they can go out on dates, take a walk, or do anything "normal" young couples do.
Or can they?
---
I'm going to leave you hanging on that note. If I keep going, I'll give too much away…like how the ending totally threw me for a loop. 😉
If you're looking to add Everything, Everything to your library, I would have to say that I recommend it for teen and adult readers. There are some sexy times–which are obvious but not gratuitous–that some middle grade readers may not be ready for (I hope).
For more information on Everything, Everything and Nicola Yoon, visit the author's website, Twitter, Tumblr, and Instagram.