On Monday, the latest nominees for the South Carolina Book Award program were announced. For the first time in probably ten years, I had not read any of the books listed in the Young Adult category. (I may work in an elementary school now, but I still love YA literature…as you may have noticed.)
Anyway, I knew I needed to correct that situation immediately, so I asked a friend which of the YA nominees I should read first. Her recommendation was Red Queen by Victoria Aveyard. Unfortunately, that book was unavailable through Overdrive, so I had to move on to another one. (Luckily for me, Red Queen became available fairly quickly, so that's my next SCYABA read.) Since I couldn't immediately dive into Red Queen, I chose to read The Last Time We Say Goodbye by Cynthia Hand. I'd read her Unearthly trilogy (Unearthly, Hallowed, and Boundless) and enjoyed it, so I trusted that I would like this book as well. I was right…again.
The Last Time We Say Goodbye is not what I would call an "easy" read. The subject matter–suicide and those left behind–is tough to read about. It's even tougher if one's life has been touched by suicide. That being said, I feel this is an important book for allowing readers to explore a tough topic…and to know that they are not alone.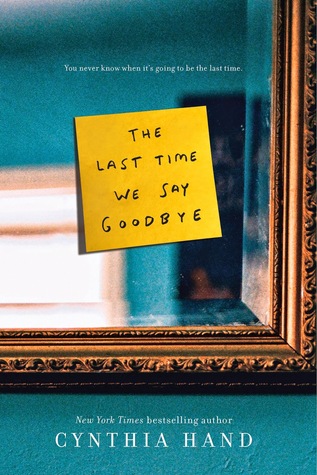 Lex thought she knew the path her life was on. She was happy, excelling in school, and hoping to get into MIT. She had good friends and a great boyfriend who really understood her. Sure, things were tense at home since her dad left, but she, her mom, and her brother would get through that eventually. Things were okay.
And then everything changed. From one moment to the next, Lex's entire world was turned upside down.
When her brother Ty ended his life, Lex didn't know what to do with herself. How could she ever be happy again when her brother would never be able to? How could she look forward to her future when Ty wouldn't have one?
As the weeks and months pass, Lex searches for her new normal. She's forgotten what it feels like to be happy. She's lost touch with her friends and ended things with her boyfriend. Her grades are beginning to slip. She worries about her mother, and she can't even deal with her father. Moving on from this tragedy doesn't seem to be an option.
Lex reluctantly talks to her therapist who suggests she keep a journal. Through writing, Lex begins to explore her relationship with her brother, what may have led to his decision, and her own guilt over not being there when Ty needed her. Could she have done something to stop him? Lex doesn't know, but the guilt–and the feeling that Ty is still around somehow–are driving her crazy.
If Lex has any hope of moving on and being happy again–whatever that looks like–she knows she must face everything that happened the night Ty died, all of the events that may have led up to it, and the horrible fallout. She has to confront her parents about their actions as well as come to terms with her own. It's the only way she can possibly have any real peace.
Will Lex's efforts be enough, or will she forever be haunted by the ghost of her brother? Find out when you read The Last Time We Say Goodbye by Cynthia Hand.
---
The Last Time We Say Goodbye is sure to be popular with fans of Thirteen Reasons Why by Jay Asher, The Fall by James Preller, or I Was Here by Gayle Forman. It's a great book dealing with a difficult subject, and it may be just what someone needs to get through a tough time.
I don't know that I would recommend The Last Time We Say Goodbye to all middle grade readers, but some may be able to handle it. Use your best judgement when putting this book in young hands, but keep in mind that kids–yes, even those in middle school–have been touched by suicide. A book like this one may be what they need. Trust me on this.
For more information on The Last Time We Say Goodbye, check out author Cynthia Hand's website. You can also connect with the author on Facebook, Twitter, and Goodreads.
Finally, if you or anyone you know is contemplating suicide, please get help. Talk to someone–a parent, a friend, a guidance counselor, a librarian, a religious leader, someone. Go to the National Suicide Prevention Lifeline or It Get's Better. You're not alone.