I should begin this post by thanking the South Carolina Young Adult Book Award Committee for placing an outstanding book like Red Queen by Victoria Aveyard on next year's list of nominees. Had they not, it probably would have taken me a lot longer to get to this most excellent book. So thanks to this group of librarians, teachers, students, and others for including Red Queen on the Book Award list and moving it to the top of my TBR pile.
Now, let's move on to my thoughts on Red Queen. In a nutshell…Holy Crap on a Cracker. I was blown away by this book, and I honestly don't know how I'm going to be able to express that in a single blog post. (I'll do my best, though.)
I guess I'll start with this: If you were to combine the X-Men, Graceling, The Hunger Games, and The Selection, you might get close to the awesomeness that is Red Queen. Yep, that about covers it. Still not enough info? Well, let's explore this fantastic story a bit more…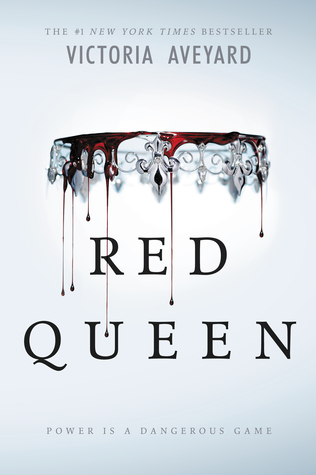 Mare Barrow is a seventeen-year-old who lives by her wits. She lies, cheats, and steals to get by, and she realizes that, if she should be caught, it would mean certain death. Why, then, does Mare risk so much?
Mare is a Red. To be Red in this world is to be "less." The Silvers–humans with silver blood and amazing abilities–are in power, and they plan to stay that way. The Reds fight and die in wars of the Silvers' making, they work for scraps, and their lives are daily struggles. Until Mare is conscripted into the army, her only way to contribute to her family is to steal whatever she can to make things just a little easier.
Mare sees no way out of her current life, but a chance encounter with a strange young man–known only to her as Cal–changes everything.
Soon, Mare finds herself with a new job–working for the Silvers in the summer palace. This position ensures that she won't have to join the army, but how did she come to be working here? Who could have possibly gotten her this job? Imagine Mare's surprise when she realizes that Cal, the young man she recently met outside of a Red tavern, is none other than the Crown Prince. He's the reason she's here, surrounded by the very people who keep Reds like her under their heels.
But it seems that fate has more in store for Mare than she or anyone else realized…
When Mare's life is in danger, it is revealed that she has powers of her own–an unheard-of occurrence in this world. Only Silvers have power, and the royal family will not let anyone learn that Mare, a mere Red, has special abilities. So Mare is passed off as a Silver and betrothed to Maven, Cal's younger brother. Now, Mare is a princess-in-training, and she knows that the Silvers around her are looking for any excuse to put an end to the threat she poses to their way of life.
As for Mare, she's looking to be even more of a threat. When the opportunity arises to join the Scarlet Guard, a group of rebellious Reds looking to end Silver rule, Mare takes it. She can help the Guard from the inside and finally stop the tyranny that Reds have lived under for so long. She may even find some unexpected help along the way.
But nothing is as it seems inside the palace. Mare doesn't know who can be trusted or when everything will come crumbling to the ground. Have those in power seen everything she's been doing, everyone she's been talking to? And what will happen to Mare if her secret activities should be discovered? Will she be able to count on the Silver allies she's made, or will they betray her for their own agendas?
Mare stands in the midst of this war between Silver and Red. How will her position, abilities, and relationships factor into the events to come? Read Red Queen to find out.
---
I hope I've done a little to entice you to read this wonderful book. It truly is phenomenal, and I look forward to reading more in this series.
Speaking of more, the next full-length novel, Glass Sword, comes out on February 9th. If you can't wait that long–yes, I know it's only a couple of weeks–there are also two novellas already out. They are Queen Song and Steel Scars, and I plan to read those as soon as I finish up a couple of other books.
While Red Queen is, in my view, definitely written for a teen audience, I do think that some middle grade readers will eat it up. Those who love The Hunger Games and The Selection will find a new series to devour in Red Queen.
If you want to learn more about Red Queen and Victoria Aveyard, visit the author's website, blog, Twitter feed, or Facebook page. You can also check out the Epic Reads book trailer below. It doesn't give much of anything about Red Queen away, but it does look pretty cool.