Unless you are brand new to this blog, you know that I have a mild obsession with Cassandra Clare's writing. Despite the current controversy (which I won't go into here) and the less-than-spectacular movie and TV adaptations of her work, I remain a loyal fan. My enjoyment of her writing has only increased with her latest novel, Lady Midnight, the first book in the new Dark Artifices trilogy.
But before we move on to Lady Midnight, if you're not already familiar with Clare's Shadowhunter novels, you've got a bit of catching up to do. Read these books first:
City of Ashes (The Mortal Instruments: Book Two)
The Bane Chronicles (ten short stories centered around the coolest warlock ever, Magnus Bane)
Tales from the Shadowhunter Academy (Welcome to Shadowhunter Academy, The Lost Herondale, The Whitechapel Fiend, Nothing but Shadows, The Evil We Love, Pale Kings and Princes, Bitter of Tongue, The Fiery Trial, Born to Endless Night, and Angels Twice Descending)
For whatever reason, I neglected to write posts on City of Ashes or The Bane Chronicles. Trust me, they're just as awesome as the other books. In the case of The Bane Chronicles, probably more awesome. (It's no secret that the High Warlock of Brooklyn is my favorite character.)
---
Now, let's turn our attention to Lady Midnight. Some may be a little shocked that I'm just now getting around to posting on this book, especially considering my love of Clare's books. I promise I have very good reasons.
I pre-ordered the book through Barnes & Noble, and it didn't arrive at my house until March 11th, three days after the release date. (I can't complain too much, though. I did get an autographed copy.)
My school book fair kicked off on March 10th and didn't wrap up until yesterday. If you've ever run an elementary school book fair, you know how exhausting it is. I barely had enough energy to read more than a couple of chapters before passing out each night.
My Battle of the Books team has been preparing for competition. Our regionals were this past Tuesday, and I'm pleased to report that we're moving on to finals next week.
Even with all of that going on, I did manage to finish Lady Midnight last night, and, like I expected, it made me want to weep, rage, and throw things. I mean that in the best possible way.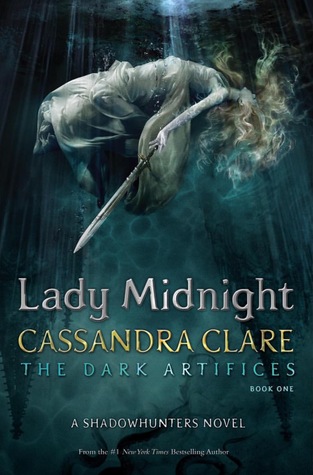 Lady Midnight takes place in Los Angeles and focuses primarily on Emma Carstairs and Julian Blackthorn. These parabatai live at the LA Institute with the younger Blackthorn children–Ty, Livvy, Dru, and Tavvy–their mostly absent uncle Arthur, and Cristina, a Shadowhunter visiting from Mexico (and possibly escaping her own past).
It's been five years since the Dark War that took so many Shadowhunters from them, including Emma's parents and Julian's father, and time has molded both Emma and Julian into much more than the children they once were. Emma is bent on finding out what really happened to her parents, and Julian is doing everything he can to keep his family together while hiding his wealth of feelings from everyone around him.
When strange murders with possible demonic ties begin occurring in LA, Emma and Julian know they must investigate…but there's a problem. Some of the victims are Faeries, and the Cold Peace prevents Shadowhunters from investigating crimes involving Faeries. That doesn't exactly stop Emma and Julian, and the waters get even more muddied when a Faerie convoy arrives at the Institute with an incentive for the young Shadowhunters to provide assistance. In return for their help in capturing the killer and handing him/her over to the Fey, they'll return Mark Blackthorn–half-Fey, half-Shadowhunter, member of the Wild Hunt, and Julian's older brother–back to his family.
Mark's sudden return to his family is an adjustment for everyone…most especially Mark. He struggles with what it means to be part of the human world once more. Part of him longs to return to the Wild Hunt…and what he left behind. Another part of him wants to contribute to his family, but so much has changed since he left. Where exactly does he fit?
As Mark is dealing with his own turmoil, so are Emma and Julian. Emma is certain that the odd murders in LA are somehow tied to her parents. She recklessly follows every lead she can, leading herself and others into more danger than they expected.
As for Julian, he's finding it harder and harder to hold everything and everyone together. So much has been placed on his young shoulders, and he's not sure how much more he can handle. Throw in the fact that he's in love with Emma, his parabatai, and things get even more complicated.
Even as Emma and Julian grow closer together, closer than is allowed by Shadowhunter law, danger and betrayal are making their way toward the Los Angeles Institute and its inhabitants. Who will be left standing when all is said and done? What will be unleashed should these young Shadowhunters fail to stop the maniacal killer? What could it all mean for the Blackthorns and their closest allies?
Read Lady Midnight, the first book of The Dark Artifices, to learn the answers to these questions and many more…
---
Oh, I have left out sooooo much here. I didn't even really touch on Cristina's issues, Ty and how the Clave views those who are "different," or the appearance of the "Lost Herondale." I couldn't possibly cover everything in one blog post, so I'm not even going to try. Suffice it to say that a LOT happens in the nearly 700 pages of this book, and everything is important.
If you're also a Shadowhunter fan, you'll be pleased to know that we do see some old favorites in Lady Midnight. Tessa, Jem, Magnus, Jace, Clary, and Church all make appearances, and I'm confident we'll see more of them as the series progresses.
Speaking of the rest of the series, the next book, Lord of Shadows, is set to be released in May of 2017, and book three, The Queen of Air and Darkness will be out sometime in 2018. Long waits ahead, people.
If you'd like more information on Lady Midnight and all things Shadowhunter, visit Cassie Clare's website, Tumblr, Twitter, Facebook, and Mundie Moms. You may also want to check out the video below from Cassie herself.
That's all from me for now. I hope you enjoy Lady Midnight as much as I did!