Warning! Turn back now if you haven't read To All the Boys I've Loved Before. P.S. I Still Love You is not a stand-alone novel. You need to read the first book to fully appreciate the second.
Now that that's out of the way, let's turn our attention to P.S. I Still Love You by the fabulous Jenny Han. This book as been on my TBR list since I finished the first book, and I finally got the chance to read it this weekend. (Thank you, Overdrive!) Like the first book, it is a quick, light read, and it thoroughly grabs the reader's attention, especially if you love the first book. What's more, the main character, Lara Jean, is Asian American, representation that is sorely lacking in a lot of contemporary YA romance. And this book, like its predecessor, is definitely a romance at its core.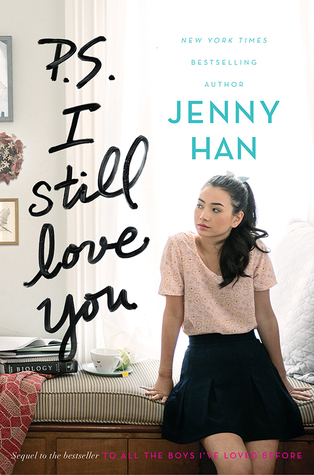 Lara Jean Song Covey desperately hopes she hasn't ruined things with Peter. Sure, at first they were just pretending to be into each other, but it soon became real for both of them. But now Lara Jean doesn't know what to do. Maybe a letter, like the one that brought them together in the first place, will help the situation. It can't hurt, right?
As it turns out, Peter is just as eager to start a real relationship as Lara Jean is. The two reunite, but their reunion isn't as sweet as one would hope. Someone secretly videos what should have been a private moment between Lara Jean and Peter and plasters it all over the Internet. It goes viral. It becomes a meme.
Lara Jean is mortified. Peter is vowing to stop whoever posted the video, but the damage has been done…and Lara Jean is pretty sure she knows who's responsible. Unfortunately, Peter has blinders on when it comes to the culprit (the vile Genevieve), and this incident is driving a wedge between him and Lara Jean.
Peter and Lara Jean are drifting apart–thanks largely to the machinations of Genevieve, Peter's ex–but there's another guy just waiting in the wings for Lara Jean's attention…another guy who received one of her infamous love letters way back when.
John Ambrose McClaren seems to be the perfect guy. He's smart, tall, respectful, handsome, and he's interested in a lot of the same things as Lara Jean. Part of her really likes him and wonders what could come of a relationship…but another part of her still has feelings for Peter. What's a girl to do when she's torn between two guys?
Well, as is often the case, Lara Jean follows her heart. Who will it lead her to? Find out for yourself when you read P.S. I Still Love You by Jenny Han!
---
So…I don't know that I liked this sequel as much as the first book, but I still found it to be a very entertaining read. Also, as I think I mentioned in my post on To All the Boys I've Loved Before, I related a bit to the character of Lara Jean. No, I'm not Korean, or girly, or a good cook, or at all interested in romance, but I've always been a "good girl." Yes, I argue a bit with my parents, but we've always had a very good relationship, and, even as a teenager, I respected them and their rules. (Seriously. I broke curfew exactly one time, and I felt worse about it than they did. I doubt they even remember it.) It's nice to see that reflected in modern YA literature. More often than not, teens are depicted as rebellious–even disdainful–of their parents (when the parents are in the picture at all), so I really appreciate it when I see something that resembles more of my own experiences.
As far as who Lara Jean should end up with in this book, I have a feeling that will be up for debate with a lot of readers. Will you be Team Peter or Team John Ambrose McClaren? (Yes, it is necessary to say his full name.) I won't come right out and tell you who Lara Jean ends up with, but I will say that I am most definitely Team John Ambrose McClaren. In my most humble opinion, he's a great match for Lara Jean. I doubt I'm the only one who feels this way.
Even though P.S. I Still Love You is a fairly light read, it does deal with issues like cyberbullying and deciding when it's the right time to enter into a sexual relationship. I think some middle school students may be able to handle the situations as presented in the book, but others won't. Know your readers before recommending this book or its predecessor to middle grade audiences.
If you'd like to learn more about P.S. I Still Love You or To All the Boys I've Loved Before, take a look at the author's website. You can also connect with Jenny Han through Twitter, Instagram, and Facebook.