For the final meeting of my school's faculty book club this year, we (I) decided to read books we've been meaning to read but never made time for. This could mean classics that have been around for decades, new releases that we've heard others talking about, or anything in between.
My pick, The Phantom Tollbooth by Norton Juster, qualifies as a classic, in my opinion. Originally published in 1961, it's been around a while, and I'd heard it mentioned once or twice. I'd even noticed it on my library shelves, but I never really got the push I needed to read it until my latest book club assignment. Well, I finished reading it last night, and I could kick myself for waiting so long to pick up this wondrous book. Anyone who's a fan of wordplay, number play, or moral lessons within the pages of children's books will find something to love in The Phantom Tollbooth, a book that is both timely and timeless.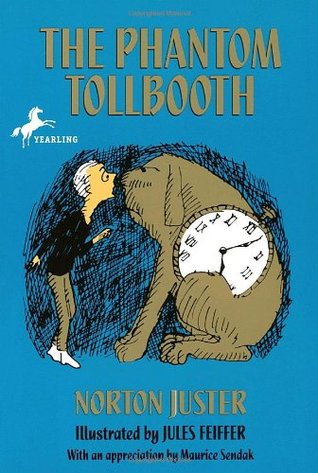 Milo is bored. Nothing interests him, and he's not motivated to do much of anything. Everything changes, however, when a tollbooth appears in his bedroom. Milo, lacking anything pressing to do, pays his toll and drives on through. Through to where, you ask? Well, that's the tricky part…
Milo finds himself outside the Kingdom of Wisdom, and things are a bit different here. This troubled land, ruled by King Azaz the Unabridged of Dictionopolis and the Mathemagician of Digitopolis, has not been the same since the princesses Rhyme and Reason were banished.
Milo, joined by Tock (a watchdog) and the Humbug, is eventually tasked with rescuing Rhyme and Reason from the Castle in the Air and returning the princesses to their rightful place in the Kingdom of Wisdom. Only then can order be restored.
Along the way, Milo and company encounter many beings who change the way they see the world around them. They begin to see things from different points of view, and they look at things like sound, color, words, and numbers in a whole new way.
They also encounter their share of trouble. Before Milo, Tock, and the Humbug can reach the princesses, they must first pass through the Mountains of Ignorance. Horrible figures like the Gelatinous Giant and the Terrible Trivium seek to stop this heroic quest, but their efforts are for naught. Milo and friends escape with the princesses, and the armies of Wisdom drive away the vicious demons of Ignorance.
All is well–for now–with Rhyme and Reason back in their place. The Kingdom of Wisdom celebrates, and King Azaz and the Mathemagician vow to do all they can to keep Ignorance at bay. His quest complete, Milo says farewell to his friends and returns to his bedroom by way of the phantom tollbooth, ready to look at his own world in a new light.
---
Unlike King Azaz, the recap above is super-duper abridged. I can't even begin to go into all of the humorous word and number play in this amazing book, but I will highlight a couple of things.
Lest you think that The Phantom Tollbooth is simply a children's book, I urge you to think again. It challenges readers to truly appreciate the world around them, experience all that world has to offer, and do whatever they can to fend off ignorance in the world. A timely message, yes? Consider the passage below, wherein the demons of Ignorance are chasing after Milo and friends, and think about how similar this may be to certain political figures:
"From off on the right, his heavy bulbous body lurching dangerously on the spindly legs which barely supported him, came the Overbearing Know-it-all, talking continuously. A dismal demon who was mostly mouth, he was ready at a moment's notice to offer misinformation on any subject. And, while he often tumbled heavily, it was never he who was hurt, but, rather, the unfortunate person on whom he fell.
Next to him, but just a little behind, came the Gross Exaggeration, whose grotesque features and thoroughly unpleasant manners were hideous to see, and whose rows of wicked teeth were made only to mangle the truth. They hunted together, and were bad luck to anyone they caught."
Sound familiar?
Even if you're not at all interested in the similarities to our current political climate, you're sure to enjoy the often hilarious wordplay in this book, especially if you're a fan of puns. The Phantom Tollbooth would be an excellent read-aloud in upper elementary and middle grades and is perfect for studying idioms. One of my favorite parts of the book, which occurred early on, was the island of Conclusions. And how does one get to this island? You jump there, of course! That's just one of the many examples of fun wordplay in this magical book.
The Phantom Tollbooth is a book you need to experience for yourself. This is a book that nearly any reader–from about third grade on up through adulthood–can and should enjoy. There's definitely something here for everyone, especially those who've found joy in Alice in Wonderland, The Wizard of Oz, or The Wind in the Willows. I look forward to talking to my book club about this read and encouraging all of them to give it a try!