Caution: You might want to read the entire Percy Jackson and the Olympians (The Lightning Thief, The Sea of Monsters, The Titan's Curse, The Battle of the Labyrinth, The Last Olympian) and The Heroes of Olympus series (The Lost Hero, The Son of Neptune, The Mark of Athena, The House of Hades, The Blood of Olympus) before proceeding.
It should come as no surprise that I love Rick Riordan's latest offering. The Hidden Oracle, book one in the new Trials of Apollo series, is as wonderful as everything else I've read by this amazing author. It takes readers back to Camp Half-Blood, but the approach is a bit different in this book. As you may have surmised from the series title, we're seeing the action from Apollo's perspective.
You may know Apollo as the Greek god of the sun, music, prophecy, archery, poetry, and so on, but there's a bit of a hiccup in the life of this deity. After the events of the war with Gaea, Zeus is kind of upset with Apollo and decides to punish him. What does dear old dad do? He makes Apollo human, of course, and that is where our fun begins.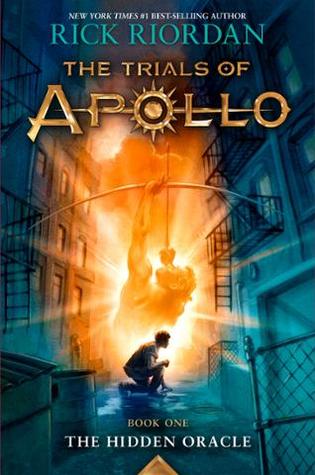 What could have been so bad for Apollo to deserve such a fate? Now mortal and stuck in the body of a flabby, acne-ridden sixteen-year-old known as Lester Papadopoulos, this once-perfect specimen must find a way back into Zeus' good graces. That might prove difficult given that someone is trying take advantage of Apollo's weakness and kill him.
Unexpected help comes in the form of one Meg McCaffrey, a strange girl–obviously a demigod–who fights like few Apollo has ever seen. Meg's assistance, however, comes with a price.  Apollo is bound to serve Meg and complete a series of trials to earn back the favor of Zeus. No biggie, right? Yeah…nothing is ever that easy when it comes to Greek gods.
After a rather harrowing beginning in the streets of New York City, Apollo, Meg, and a familiar face make their way to Camp Half-Blood. Surely Apollo can get some sort of help at this refuge for demigods. After all, who wouldn't want to help him? He's clearly awesome.
Things at Camp Half-Blood, though, aren't exactly rosy. Campers are disappearing, communication lines are down, there have been no new prophecies in a while, and no one really knows what's going on or what to do about it. It's clear that something major is happening, but what?
Who's responsible for all this madness and mayhem, and what could Apollo, a once all-powerful, now virtually powerless god, possibly do to remedy the situation and prevent catastrophe from striking Camp Half-Blood? Who will help–or hinder–him in his search for a solution? And what could all of this mean for the future of Camp Half-Blood…and the world as we know it?
---
Yeah…this post, like so many before it, doesn't even come close to capturing how fantastic this book is. It's peppered with snark and sarcasm, like Riordan's other books, but this book also has something we haven't seen before from this author–haiku. Each chapter begins with a haiku, written by Apollo, that foreshadows what we'll encounter. It's awesome, and I hope that it encourages many readers to write their own haiku, the more ridiculous the better.
In addition to the fabulous haiku, Apollo's voice in this book–and I'm guessing the rest of the series–is equally exceptional. Just what does a god made human think of himself? Well, wonder no more. At the beginning of the book, Apollo, though humiliated at being made mortal, is also extremely impressed with himself. Sure, there are things he's done that he's not 100% proud of, but those don't give him much pause. Or do they? As the story progresses, we see that Apollo does have regrets and that he's at least trying to make amends. Is he successful? Well, that's really for the reader (and Zeus) to decide.
Before I give too much away, I'm going to end this post. Suffice it to say that The Hidden Oracle is exactly what we've come to expect from Rick Riordan…and so much more. I can hardly wait to read more of Apollo's exploits, but waiting is what I'll have to do (as usual). Book two, The Dark Prophecy, won't be out until next May.
In the meantime, you might want to learn more about all of Rick Riordan's fabulous books on his website. You may also want to check out Disney Books' hilarious, spot-on book trailers for The Hidden Oracle. I've included two of them here. There's one more, focusing on the sun, that I couldn't get to work.