After recent events, I decided that I needed to read something on the lighter side of things. Thanks to the list of 16-17 South Carolina Junior Book Award nominees, I was led to Being Sloane Jacobs by Lauren Morrill.
I like to read as many of the SCJBA nominees as possible to see if any are okay for the upper elementary crowd. While I don't think Being Sloane Jacobs is a good fit for elementary libraries–it's definitely more suited to middle grade and teen readers–I do think it has tons of potential for a Disney Channel movie. (Seriously. If someone's not on this already, they really should be.) Combine The Parent Trap with doses of The Mighty Ducks and The Cutting Edge, and you're close to this entertaining read.
Let's dive in, shall we?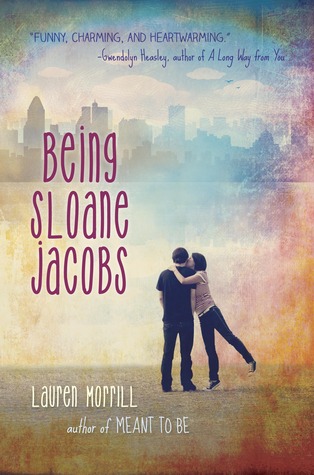 In Washington, DC, we have Sloane Emily Jacobs, a girl who knows something about stress. After a disastrous fall years earlier, she's making her return to competitive figure skating. But Sloane isn't sure that she has what it takes anymore. She doesn't know that spending time at a Montreal skating camp this summer will help with her nerves…but it could provide a much-needed break from her overbearing mother and her secretive father, a senator who will do almost anything to hold onto his position.
In Philadelphia, we have Sloane Devon Jacobs, a tough hockey player trying to get back into her groove. She's somehow lost the ability to score, so she's taking her frustrations out on other players. Her coach arranges her attendance in a summer hockey camp in Montreal, hoping to help Sloane with her aggression issues and prepare her to impress scouts in the coming year. Sloane doesn't want to give up her summer, but she won't deny she needs to escape the fact of her mom's absence and her dad's supposed indifference. Maybe this camp will be what she needs.
As luck would have it, these two vastly different girls with the same names meet in a Montreal hotel, and it doesn't take long for a wild plan to emerge. No one at either camp knows much about Sloane Jacobs, so what if they just switched places? Each Sloane Jacobs would get a fresh start, a chance to be someone completely new, and they could avoid all of the expectations that have been weighing on them. Should be easy, right?
At first, things seem to be okay, but these two girls soon realize that there's more to this switch than just changing wardrobes. Sloane Emily has to toughen up and learn the basics of hockey. She has to tap into her aggressive side, stand up to bullies, and show that she's got what it takes to be part of a team. Sloane Devon realizes that figure skating isn't as easy as it looks. It's murder on every part of her body, and now she doesn't have pads to cushion the blow every time she falls on the ice. And that's just the skating. She also has to deal with a particularly vicious mean girl who sees her (or the other Sloane) as a threat.
And if keeping stories straight and learning new sports isn't enough, both girls have potential romances brewing. Sloane Emily meets a hockey player–emphasis on the word player–who vows she can trust him. She wants to, even knowing that she's hiding her true self from him. As for Sloane Devon, she runs into an old friend from home at a neighborhood pub. She knows there could be a potential relationship there, but what would he think if he knew she gave up hockey for figure skating this summer? How could he possibly understand something so out of character for her?
Both girls are learning a lot about themselves this summer, and, as it turns out, both are stronger than they ever realized. They have the drive to succeed in totally new sports, and they're growing comfortable with their new personas. But what will happen when the truth comes to light? Will they lose all they've worked for this summer, or will they use their experiences to become entirely new versions of Sloane Jacobs, girls with the confidence to face anything that comes their way?
---
Even though both girls in this book had to deal with some big issues–chief among them an alcoholic mom and a dad caught in an affair–I found Being Sloane Jacobs to be a light, fun, and somewhat stressful read. Will the girls be caught? When? What will happen after that? Like I said…stressful. But in a good way. I was eager to turn the pages (or swipe the screen) to see what awaited each girl next and to see how each of them handled the switch. I think middle grade and teen readers will feel the same way.
The school librarian in me is usually looking for life lessons in the books I read. If I could point to just one in this book it would be empathy. On the outside, these two girls have nothing in common aside from their names. It takes actually walking–or skating–in the other person's shoes to see that not everything is as simple as it seems. Having money doesn't mean having a worry-free life. Living outside of the spotlight doesn't mean everything is simple and hunky-dory. Each girl learns a great deal about the other during this whole process, and I think each of them emerges as a more compassionate person.
Like I said before, I think Being Sloane Jacobs would make an excellent Disney Channel movie, and I think you'll agree when you give this book a read.
If you'd like more information on this book and others by Lauren Morrill, you can connect with her on Twitter or her website.
Happy reading!