Yesterday, Kiersten White's newest book, And I Darken, was released into the world. I was lucky enough to get an early copy via NetGalley, but I didn't manage to finish the book until last night. You know how it is–vacation, work stuff, naps–all of that got in the way.
Anyhoo, I did finish this first book in a planned trilogy last night, and I can say with absolute certainty that it's unlike anything I've read in recent memory. It is a batcrap-crazy ride, and I mean that in the best way possible. And I Darken defied all of my expectations, and I cannot wait to see what awaits the characters I encountered in this book.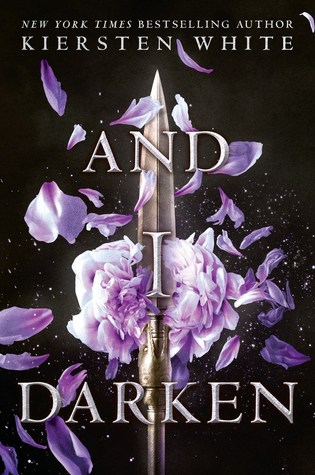 So…what's it all about? While some sources have And I Darken listed as fantasy, I wouldn't be so quick to attach that label…at least to this first book. There is no fantasy involved…unless you maybe want to call alternate history a type of fantasy (which I don't). This story takes place during the rise of the Ottoman Empire, and it is the tale of the children of Vlad Dracul (the inspiration for Dracula, of course).
Now, in this telling, Vlad is not exactly the fearsome ruler of legend. He's still in charge of Wallachia (part of Romania), but he's weak and under the thumb of the Sultan. He essentially offers his children, Lada and Radu, as collateral to the Sultan.
Radu is a gentle, handsome boy who goes virtually unnoticed by others…unless they're pointing out his apparent weakness. Forgotten by his father, Radu seeks solace in Islam and finds a measure of peace in his new circumstances.
Lada is fierce and sees being a woman as a liability. She knows that she is equal–if not superior–to any man. She is at once Radu's protector and tormentor, and, even though she hates that her father has abandoned them to the Sultan, she remains loyal to her homeland of Wallachia.
Eventually, the siblings encounter another child who would become central to their lives. This boy is Mehmed, and he is the Sultan's heir. Radu is immediately drawn to Mehmed, and the two quickly become friends. Radu is tormented by his feelings for Mehmed and confused about what those feelings might mean.
As for Lada, she soon becomes Mehmed's confidante. He can drop his shields around her and simply be himself. Yes, he will be Sultan soon, but with Lada, he can simply be Mehmed. Lada resists getting involved with Mehmed. After all, attachment and emotion are signs of weakness. Her primary goal is survival…by any means necessary. As time passes, though, Lada and Mehmed grow closer, and Lada realizes he is becoming an essential part of her life. She does wonder, however, if she is equally important to him.
Set against a background of political maneuvering, betrayal, fighting, and even murder, Radu and Lada must decide what each of them are willing to lose to achieve their own ends. Will Radu be able to suppress his own desires and give up his only family to remain by Mehmed's side? Will Lada abandon her goal of returning to (and ruling) her beloved Wallachia to form some semblance of a life with Mehmed (and his harem)?
Love and loyalty will be tested in these tumultuous relationships. What–or who–will be sacrificed in the process? Read And I Darken, the first book in The Conqueror's Saga, to find out.
---
Like so many before it, this post doesn't come close to capturing just how rich, dark, and satisfying this book is. (I almost feel like I just described a piece of dark chocolate.)
And I Darken is an intense read that makes a person think about just what they'd be willing to do to serve their own ends or even the good of those around them. Would you be willing to betray the person who means the most to you? Give up your family, faith, or future? Walk away from everything and everyone you've ever known? Kill? Those are just some of the things facing the characters in this book, and these situations and how they play out could lead to some very profound discussions.
Other discussions might come when talking about the characters themselves, especially Radu and Lada. In Radu's case, there's the issue of coming to terms with his sexuality in a time and place that didn't even address anything other than heterosexuality. (Apparently, it's okay to have multiple wives and concubines, but being gay is taboo. Another potential topic to explore there.) How have things changed since the time of the Ottoman Empire? Have things changed at all in certain parts of the world? Is being gay still considered being something "other" even in the so-called "modern" world? So many questions to ponder.
And then there's Lada…
Lada is a warrior. She buries her feelings deep and displays very few outward signs of weakness. She is vicious and determined to get what she wants. She does whatever she must to survive and protect those she cares for, but she knows that her ultimate goals conflict with those of Radu and Mehmed, and she has to decide what to do about that. Lada is a complicated character, one who rarely even understands herself or her motivations, but she is absolutely fascinating to read about. Lada's character could lead to many discussions on what it means to be feminine; how women have been viewed historically and in the present, especially as it pertains to fighting, defying expectations, and dealing with patriarchal societies; and even something like negative reactions when women put their own needs and desires first.
I'm curious to see what will happen with Lada in the next two books, and if she'll truly become the brutal inspiration for a very different legend of Dracula. Should be interesting.
Speaking of future books, I have no idea what the title of book two will be. I'm assuming it will be released about this time next year, but that's just a guess at this point.
If you'd like to learn much, much more about And I Darken, please visit the book's official website. I've only explored it a little, but it has lots of information to offer, including character descriptions, a book trailer (which I've also included below), an author bio, and more.
Lastly, for those wondering if And I Darken is a good pick for the middle grade crowd, I would have to say no. While this book is extremely compelling, I think many of the themes and situations are more suited to a high school crowd. As always, though, read it for yourself to determine if it's a good fit for your students/patrons.