I'm usually not one to go for books with dogs on the covers (as I believe I've mentioned here before). I threw that out the window, though, when NetGalley gave me the chance to read an early copy of Wish by Barbara O'Connor.
I was first introduced to this author's work when I became an elementary librarian back in 2010. Since then, I've come to rely on O'Connor to provide both me and my students with heart-warming, relatable characters and charming, well-written stories. Wish, which will be released on August 30th, delivers on all counts.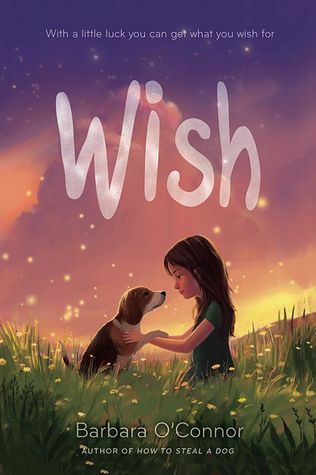 In Wish, readers are introduced to eleven-year-old Charlie Reese. Charlie believes in the power of wishes. She's been making the same wish for a long time, and she's convinced that it will come true one of these days. She is ever hopeful.
Due to several issues with her parents, Charlie has been uprooted from her home in Raleigh and sent to live with her Aunt Bertha and Uncle Gus–people she's never met–in the Blue Ridge Mountains. Charlie is not happy about this situation, and she makes her displeasure known to nearly everyone. She can't wait to leave these hillbilly kids behind and get back to where she belongs.
Well, not everyone takes Charlie's attitude at face-value. Aunt Bertha and Uncle Gus are thrilled to have Charlie in their home. They treat Charlie like their own child and do whatever they can to make her feel welcome. There's also Howard, a young boy who never lets anything bother him. He's assigned to be Charlie's Backpack Buddy on her first day in a new school, but he takes it few steps further and tries to become Charlie's friend.
Charlie doesn't quite know what to make of these people being so nice to her, and she lashes out at them quite a bit. She eventually comes to realize, though, that they'll still be there no matter how mean she is to them. Maybe this place and the people here aren't so bad after all.
As Charlie begins to adapt to her new surroundings, she also crosses paths with a stray dog. Charlie feels a kinship with this dog–who she names Wishbone–and she's determined to give him a great home. Charlie knows that Wishbone longs for a family and a place to belong just like she does.
Days and weeks pass, and Charlie grows more and more comfortable with her new life with Bertha, Gus, Howard, and Wishbone. What will happen, though, when it comes time for her to return to Raleigh? Will she have to leave behind the family and friends she's found in the mountains? Is returning home to her parents really what's best for her now?
Charlie doesn't know which way to turn, but maybe all that wishing she's done–with an assist from those who really love her–will help everything to turn out for the best. Find out how one girl's special wish comes true–but maybe not in the way she expected–when you read Wish by Barbara O'Connor.
---
I cannot say enough good things about this book. I laughed, I cried, and I reflected on my own childhood. Like Charlie, I spent my summers weeding the garden, picking vegetables, and going to Vacation Bible School. Those are experiences my students continue to have.
Then there's the food. Aunt Bertha's cooking in Wish makes me think of my mom's cooking. Fried green tomatoes, cobbler, potato salad, biscuits, etc. I'm getting hungry just thinking about it. (Seriously, there's nothing like good ol' Southern food.) I'm betting many readers will feel the same way.
Aside from summer life and food, Wish also addresses things like friendships (with both humans and canines), dealing with anger, and what home and family really mean. Charlie has to come to terms with all of these things, and she does so in her own special way. Those around Charlie help her to see that things may not always turn out like she expects, but that doesn't mean that her life is lacking in any way. With friends and family who love her, she gets everything she ever wished for.
I can hardly wait to share this wonderful book with my students and teachers (which I guess is good since I go back to school tomorrow). I'm now even more excited that Barbara O'Connor is visiting my school in October, and I hope my excitement is shared by everyone in my school. I plan to buy a copy of Wish for all of my 3rd-5th grade teachers so that we can all share the love prior to this special visit. I'm confident that everyone who reads it will adore Wish as much as I do.
To learn more about Wish and other books by Barbara O'Connor, visit the author's website.
Happy reading!