Most people who know me know that I have a certain fondness for Sherlock Holmes. Actually, that's probably a bit of an understatement. It's more like I'm obsessed, especially with the BBC's Sherlock. Just this morning, I was wrapped up in my 221B Baker Street blanket, leaning on my Sherlock Holmes book pillow, and drinking coffee out of my "I am Sherlocked" mug.
Anyhoo, I tell you all of that to preface my latest read, A Study in Charlotte by Brittany Cavallaro. If you're a fellow Sherlockian, you've already picked up on the wordplay in the title. (It's a play on A Study in Scarlet, the story that first introduced readers to Sherlock Holmes and John Watson.) Based on the title alone, I knew I wanted to read this book. When I read the synopsis and discovered it was about the teenage descendants of Holmes and Watson–who were real-life people in this world–I was hooked. None of that changed as I began reading. In fact, this enthralling novel made me even more enamored of all things Holmes (and Watson, of course).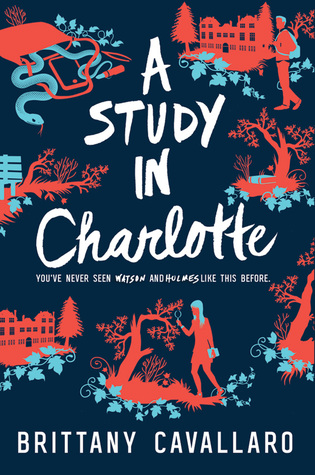 Jamie Watson doesn't feel like he belongs at his new school, Sherringford, which is way too close to his absentee father. He misses his home in London, but he may have just found a piece of London–one tied to his family's infamous past–right here in Connecticut. There's another Londoner at Sherringford, but a friendship with this girl is sure to come with all sorts of difficulties. You see, this girl is Charlotte Holmes, great-great-great-granddaughter of the one and only Sherlock Holmes…and Jamie is a descendant of Dr. John Watson.
Jamie would like to strike up a friendship with Charlotte, but it doesn't seem very likely at first. Charlotte is as cool, temperamental, and borderline antisocial as her last name would suggest, and she seems to look at Jamie with something akin to disdain. Circumstances, however, are about to drive these two crazy kids together, and they will form a partnership that rivals that of their ancestors.
When a Sherringford student is killed–and all signs point to either Jamie or Charlotte being the culprit–they must team up to solve this mystery. Who could possibly want to frame them for murder, and what does all of this have to do with their family histories?
As Charlotte and Jamie try to work together, Jamie quickly learns that Charlotte is not exactly easy to be around. She may be a genius, but she's battling some serious demons and hiding secrets that could get both of them killed. How can he convince her that she can trust him? Does Jamie really trust her?
At any rate, Holmes and Watson are on the case at Sherringford, and nothing will be the same for either of them when the truth is finally revealed.
---
Charlotte Holmes is, in my opinion, an absolutely perfect descendant of Sherlock Holmes. She views sentiment as an inconvenience (in most cases), she's unbelievably brilliant, and she has no time for small talk or trivial matters. She's endured truly horrific things in her life, and she hasn't always handled them well. She's got very real problems–her drug habit being chief among them.
That being said, Jamie Watson is, like John with Sherlock, Charlotte's ideal counterpart. He looks out for her when she forgets to care for her own well-being. He reminds her of her humanity…and that of those around her. He balances her, and these two are much stronger together than they are apart. That's something I hope we'll see lots more of in future books. I predict that there will be a bit of a romance between the two eventually, and, while I could do without that addition to their relationship, it's sure to be fascinating to see how things play out.
A Study in Charlotte is the first book in a planned trilogy. The second book, The Last of August, will be out on February 14th, 2017. Based on the events of book one at the title of book two, I'm sure this story will be a nail-biter. I can hardly wait.
For more information on A Study in Charlotte and Brittany Cavallaro, visit the author's website. You can also follow her on Twitter, Tumblr, and Goodreads.
And now, my friends, I think it may be time for a Sherlock marathon. Who's with me?