Tonight, I come to you with red, puffy eyes and a slight headache from crying too much. That's what happens when you read a book that absolutely wrecks you. Today, that book was The Serpent King by Jeff Zentner.
On a scale of 1 to 10, with 10 being how much I cried during the movie E.T., The Serpent King probably rates a 9. I went through half a box of Kleenex, had to clean my glasses half a dozen times, and was all-out sobbing at several points. In some ways, it was cathartic, but it's going to take me a while to get over this heart-wrenching book.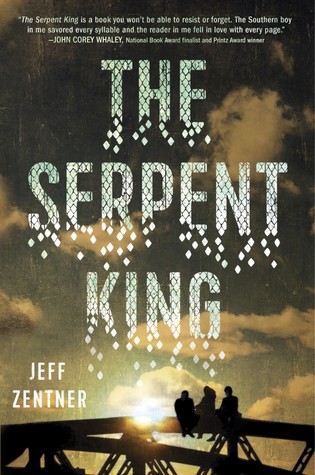 The Serpent King introduces readers to three friends, all of them outcasts in their small Tennessee town. Dill, Travis, and Lydia are in their senior year of high school, and all are facing uncertain futures. Right now, all they really have is each other and the promise of this one final year together.
Dill is the son of a snake-handling minister, Dillard Early, Sr., who was sent to prison for heinous acts–acts that he tried to blame on Dill. Even Dill's mother, who is now working two jobs to keep the family afloat, blames her son for his father's incarceration. And she's not the only one. Dill is, through no fault of his own, a town pariah, and he thinks it's his lot in life. His only escapes are music and hanging out with Lydia and Travis, his best friends. But even that will be changing soon, when Lydia goes off to college and leaves them behind. Dill doesn't want her to go, but there's no way he can ask her to stay.
Lydia, an up-and-coming fashion blogger, has her sights set on New York. She dreams of a career in fashion, and she's already on her way to making it happen. On some level, she realizes that her friends, especially Dill, aren't ready for her to leave them, but she needs to get out of this stifling town and make her mark on the world. She wishes Dill had the same ambition. She knows he has more to offer the world than he thinks. The trick is convincing him.
Travis, a big guy with a bigger imagination, finds solace in his favorite fantasy book series, Bloodfall. These books help him reach out to like-minded friends online and offer an escape from his abusive father. Thanks to Lydia and her many connections, he even gets a rare opportunity to meet his favorite author. This encounter leads him to believe that one day he could write fantastical stories that provide escape for people just like him.
Throughout this year, Dill, Lydia, and Travis maneuver through their small town as best they can. Dill and Travis begin to stand up for themselves and make plans for their futures. Lydia realizes how much she'll miss her two best friends when she goes to college.
Just as things are starting to look up for this trio, tragedy strikes, and everything is thrown into a tailspin. What will become of these friends who mean so much to each other? Will they allow one tragic event–and their reaction to it–destroy their hope for the future? How can they hold onto hope when everything seems so bleak?
Maybe the only way to hold onto hope is to hold fast to each other.
---
I have to stop now before I give too much away (if I haven't already). Let me just say that if you're not ugly-crying at some point during this book, then you're cold as ice. It's a heartbreaking story of friendship, growth, grief, faith, and love, and I truly adore it…even if it did cause puffy eyes and a headache. It's definitely one of my top books of 2016.
The Serpent King is author Jeff Zentner's first novel, and I really hope we'll hear more from him. He's already being compared to John Green and Rainbow Rowell, and I think those are pretty apt comparisons. Keep that in mind when recommending The Serpent King and whatever books we see in the future from this wonderful author.
If you'd like to learn more about The Serpent King, visit the author's website. You can also connect with Jeff Zentner on Twitter, Instagram, and Facebook.
Finally, check out the book trailer below for The Serpent King. It doesn't give much of anything away, but it does capture the mood of the book. Enjoy!