I think there's something wrong with me. Why, you ask? Well, I read another Christmas-themed book that made me feel all mushy inside. That book is Jay Asher's latest, What Light.
Some of you know Jay Asher from Thirteen Reasons Why (which will soon be a Netflix original series) or The Future of Us (a collaboration with Carolyn Mackler). While What Light isn't nearly as serious as Thirteen Reasons Why or as out there as The Future of Us, it is a good story and one that many teen readers will enjoy. And even though the book is set during the Christmas season, I think it's much more than a Christmas book. It's about first love, friendship, forgiveness, and atonement. Those concepts make this book accessible to a wide audience, regardless of whatever winter holiday one chooses to celebrate.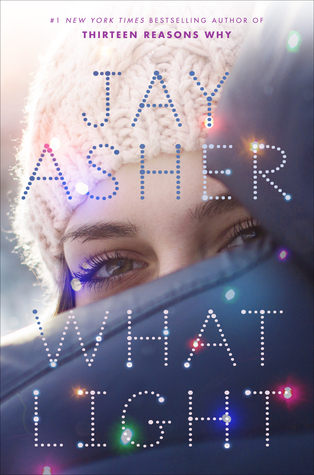 Every Christmas season, Sierra's family packs up and moves from their Christmas tree farm in Oregon to a tree lot in California. It's the only life Sierra has ever known, and, even though she misses her friends in Oregon, she loves the time she spends in California. After all, she's got friends and traditions there too, and she dreads the day when her parents say that they're closing the Christmas tree lot for good. (And that day may be coming sooner than Sierra wishes.)
Sierra wants to make the most of what could be her final Christmas in California. Her plans most definitely do not include getting involved with anyone. What would be the point? She's packing up right after the holiday and heading back home. She doesn't want to get her heart broken or deal with a long-distance relationship, so she tries to avoid any messy entanglements. "Tries" being the operative word. This year, Caleb throws all of Sierra's plans out the window.
Sierra does her best to resist Caleb, but he sneaks past her defenses. Even when she learns that Caleb has some serious issues in his past, she works to give him the benefit of the doubt. He's such a good guy; surely he couldn't be guilty of the horrible things people warn her about. Right?
As it turns out, Caleb did make a big mistake years ago, and he's been paying for it ever since. He's basically a pariah in town, and, even though he tries to make up for what he's done, there are many people–Caleb included–who will not forgive him.
While Sierra has some reservations about getting too close to Caleb, she sees more in him than this one mistake. Can she convince her friends, her parents, Caleb, and others in her Christmas-time home that Caleb is a great guy and worthy of forgiveness? Can she and Caleb make a relationship work when so many things are stacked against them?
Read What Light by Jay Asher to learn how two young people battle rumors, distance, and even time to find their own Christmas miracle.
---
If it's not already obvious, I really like What Light. I think it's heartwarming, sentimental, and fun. At the same time, it deals with issues like suspicion, family upheaval, balancing romantic relationships with friendships, change, grace, and redemption. Jay Asher takes all of these things, adds a bit of Christmas spirit, and gives readers a book that delights even the most hard-hearted cynic. (That would be me.)
What Light is a great pick for middle grade, teen, and even adult readers. If you're looking for a novel to round out your Christmas display/collection, give this one a try.
For more information on What Light and other books by Jay Asher, visit the author's website, Twitter, Facebook, or the Thirteen Reasons Why website.