Almost a year ago, I read Jennifer Niven's All the Bright Places and instantly became a fan of this wonderful author. This morning, I finished reading her latest book, Holding Up the Universe, and I must say that I have a lot of feelings about this book.
Like its predecessor, Holding Up the Universe was at once heart-warming and heart-breaking, and it was difficult for me to read at times, but for very different reasons than All the Bright Places. You see, one of the main characters in this book is a big girl, and, while I often appreciate seeing my own experiences reflected in the books I read, it can also be extremely painful. Does that mean I don't like the book? Absolutely not. In fact, I find it incredibly moving and uplifting. I wish I were more like Libby Strout–even as an adult–and I can only hope to apply her attitude about life to my own.
Okay…before I get too bogged down in my own issues, let's move on to this touching novel and the story of Libby Strout and Jack Masselin.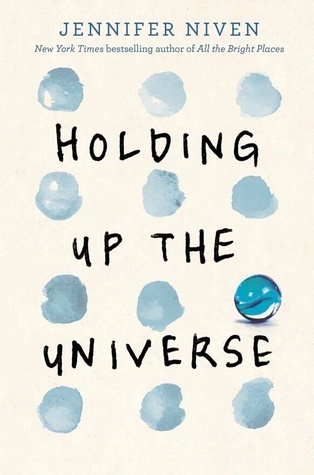 Libby Strout knows what it is to be the center of attention. It's not necessarily a good thing. Several years ago, she was a media sensation because she had to be cut out of her house. She was known as "America's Fattest Teen." She received hate mail from people who thought they had the right to scorn her. None of these people knew what led her to this point, and none of them seemed to care. They judged her solely because of her weight.
Now, three years later, Libby is getting ready to rejoin the world. She's lost over 300 pounds, and she can finally do a lot of the things that she couldn't three years ago. Libby's about to go back to school for the first time since the fifth grade. She's still a big girl, but she's comfortable with herself. She knows how far she's come, and she wants to make the most of her time in high school. If only it were as easy as simply wanting something to happen…
Jack Masselin is one of the popular guys at school. He has a lot of friends, he's good at sports, and he has a pretty (if sometimes mean) girlfriend. At first glance, he's got it all. What no one realizes, though, is that Jack is dealing with prosopagnosia, also known as face-blindness. No matter who the person is, how long he's known them, or even how much he loves them, everyone around him is a stranger. He's done a decent job of compensating for his condition–generally by being a world-class jerk–but it's getting harder and harder to cope with his messed up brain.
Libby and Jack probably could have avoided each other forever, but a horribly sadistic "game" brings them together. (FYI, Jack was being his jerky self to fit in with his friends, and Libby stood up for herself.) Now, they're getting to know each other better in mandatory counseling and community service. Against all odds, the two are growing closer and trusting each other with their deepest secrets and most ardent dreams.
As Libby and Jack become friends (and maybe more), they encounter backlash at school. Mean guys and girls continue to focus on Libby's weight, and they want her to feel as low as possible. No one gets why popular Jack Masselin would choose to hang out with Libby. After all, all they can see is that she's fat. They don't see what Jack sees. They don't see that Libby is funny, confident, smart, beautiful, and she makes him feel less alone in the world.
As for Libby, she doesn't understand why Jack sells himself so short. There's more to him than popularity, or swagger, or even face-blindness. If only she could get him to see that.
With friends, societal expectations, and even their own issues working against them, is there any way that Libby and Jack can make a real relationship work? Has too much happened to make this possible? Or will each of them finally see that the love and acceptance they're looking for is right in front of them?
---
I really didn't want to get overly sappy in this post, but I think we can all agree that didn't quite work out. Even though my own experiences in high school tell me that there is no possible way the popular guy ends up with the big girl, I really wanted it to work out for Libby and Jack in this book. In many ways, I got exactly what I wanted…and what my adolescent self needed.
I'm trying to mentally go back through this book to determine if there's anything that makes it a no-no for middle grade collections. There's some language, defiance, and alcohol/drug use, so keep that in mind before passing this book along to tween readers. Holding Up the Universe is a must-add to YA collections in school and public libraries. I'd have no problem recommending it to anyone in ninth grade and up. (Yes, I'm including adult readers in that "up.")
To learn more about Holding Up the Universe and the fabulous Jennifer Niven, I encourage you to visit the author's website. You can connect with her on Facebook, Twitter, Instagram, and Pinterest. You may also want to take a look at the unspoilery book trailer below.
Ms. Niven is also the founder of Germ Magazine, an online literary/lifestyle magazine for teens and beyond. I've only glanced at it so far, but it looks pretty cool.
Happy reading to you all. Be safe out there.