Occasionally, I like to take a little break from my standard fare of children's, middle grade, and YA literature. That break generally takes the form of a romance novel or a memoir. This time, I chose to read a memoir, specifically Yes Please by Amy Poehler.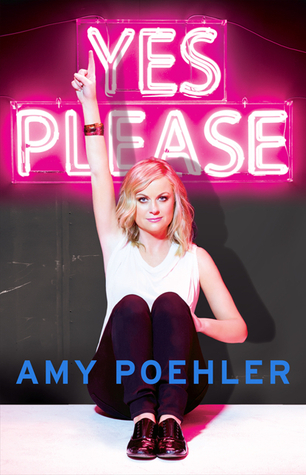 This book could be classified in a number of ways: nonfiction, autobiography, humor, and, of course, memoir. What I'd like to emphasize here, though, is that it is a book for adults. Unlike most of the other books I feature here, this is not a read that belongs in a YA collection. Are there certain elements that will appeal to teens? Sure. But this is a book written for adults and should be treated as such. It contains frank talk of marriage, sex, drug use, being a woman in a male-dominated industry, parenthood, and simply navigating life.
Now, all that being said, I did like Yes Please. It wasn't exactly what I was expecting, but I guess that's a good thing. I started this book thinking that I would be getting something similar to Tina Fey's Bossypants (which I loved). To a certain extent, that's what I got, but there was also a more serious side to Poehler's book. It wasn't the laugh-out-loud experience that I anticipated. Sure, there were moments of hilarity, but, at least in my opinion, the book was more about Poehler reflecting on what led her to where she is today.
Amy Poehler takes readers through her admittedly wonderful childhood, through her early days in improv, on to her time with the Upright Citizens Brigade, SNL, and Parks and Recreation. She paints a very vivid picture of how difficult and exhilarating it was to be a young comedian in both Chicago and New York, and she doesn't shy away from the–in my eyes–darker aspects of the world she inhabited. There was a great deal of partying and lots of drug use, and Poehler did her share of both.
Things began to change for Poehler when she got married and became a mother. In this book, she talks more about the latter than the former. She only briefly glances on her divorce from Will Arnett (which I totally understand), but the love she has for her two boys pours from this book. It's clear that those boys are adored by their mother…but also that she works to make time for herself. She admits that she has no desire to be a stay-at-home mom, and she cautions women to stop shaming each other for their choices. Her motto of "Good for you, not for me" is one that could serve us all…and maybe help some people to mind their own business.
I like to think I know a fair amount about the entertainment industry, but I have to admit that I'm not familiar with a lot of the names Poehler dropped in this book (and she dropped a lot of them). I knew some of them simply because I've watched Saturday Night Live for years, but others were completely new to me. I'm not sure what that says about me or this book, but I'm guessing other readers may also feel like they need to bone up on their "Who's Who of Improv" after reading Yes Please.
Aside from the name-dropping, if I had to make a complaint about this book, it would be that it felt a bit choppy. Poehler jumped from event to event and back again fairly regularly. I eventually got used to it, but the frequent back-and-forth was a bit jarring at times.
All in all, Yes Please was an enjoyable read, and I would recommend it to adult readers who want an inside look at the world of comedy, particularly how a young woman worked like mad, paid her dues, and went on to become one of the most beloved and recognized comedians in the world.