After the End by Amy Plum has been on my TBR list for a while. I loved Plum's Die for Me series, so I was confident I would like this book, the first in a duology. As it turns out, I did like After the End, but I also found it kind of frustrating…especially since I didn't realize until after I'd finished it that it was only book one. (Luckily, the paperback version of book two comes out today. Hooray!)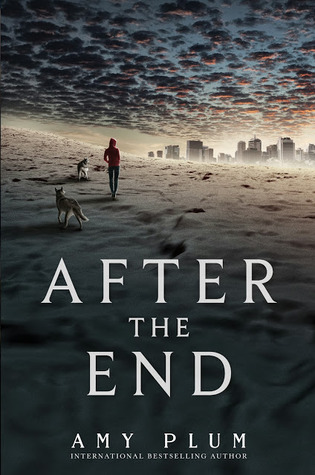 Juneau, a seventeen-year-old girl living with her clan in the Alaskan wilderness, has grown up knowing that she is one of the few survivors of the fallout of World War III. She and her clan commune with nature and avoid anything and everything outside of their boundaries. Juneau is set to become the clan's new sage, she feels connected to Yara, or the force that holds all of nature together, and she is confident of her place in the clan.
Everything changes, however, when all Juneau has ever known disappears in an instant. She knows something is amiss when, while on a hunting trip, she hears helicopters in the distance. Juneau rushes back to her clan only to learn that no one is there. Everyone, including her father, has been kidnapped, and Juneau is the only one left to discover why and where they were taken. It's up to her to rescue them from an uncertain fate.
Juneau crosses her clan's boundaries for the first time in her search for answers, but she's not prepared for some of the answers she receives. It seems that nearly everything she believed was a lie. There was no World War III, no nuclear devastation, no reason for her clan to be so isolated. So why were they? Why have they been taken now? And what do those responsible for her clan's disappearance want with Juneau?
Someone who may have the resources to answer at least one of these questions is Miles. Miles Blackwell is the eighteen-year-old son of a pharmaceutical firm CEO. While Miles is at home–after being kicked out of school–he overhears his father talking about the search for a young girl in Alaska. He figures that he can maybe find this girl and somehow get back in his father's good graces. What could possibly go wrong?
Miles is on the hunt for Juneau while Juneau is searching for her clan, and the two eventually cross paths. Miles doesn't exactly buy all of the Yara stuff that Juneau is talking about. His goal is to turn this girl in to his father. Eventually, though, he comes to realize that there is something special–supernatural even–about this girl, and he begins to change his tune. He wants to help her, but how? And what exactly does his father want with her?
As Juneau and Miles get closer to the truth, they will encounter some uncomfortable realizations about their families and what they believed about the world around them. Will they be able to figure out what's really going on, find Juneau's clan, and escape those who would do almost anything to stop them? We shall see…
---
If you're as avid a reader as I am, you no doubt know the frustration that comes when you get close to the end of a book and there simply aren't enough pages for everything that needs to happen. That's what I endured as After the End drew to a close, so it's good that there's another book, Until the Beginning, to look forward to, but I'm still a little dissatisfied. Hopefully, that feeling will change when I read book two.
Minor frustrations aside, I do think After the End is a good book. It's gripping, puzzling, and thought-provoking. The two different perspectives in the book–and how they come together–make for a very interesting read, and the larger ethical dilemmas presented in the book could lead to some intriguing discussions.
If you'd like to learn more about After the End and other books by Amy Plum, check out the author's website. You may also want to connect with her via Twitter, Facebook, Goodreads, and Instagram.