It didn't take much convincing for me to pick up Ink and Bone, the first book in Rachel Caine's The Great Library series. I was already a fan of Caine's work. (I was slightly obsessed with her Morganville Vampires series for a while.) Also, Ink and Bone was recently named to the 2017-18 South Carolina Young Adult Book Award nominee list. So, it wasn't so much if I would read this book but when. I'm pleased to report that I finished Ink and Bone earlier today, and it was both awesome and disturbing. I'm sure many of my fellow librarians would agree with that assessment.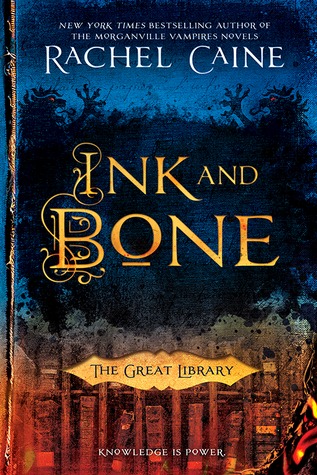 Ink and Bone is, in a nutshell, an alternate universe where the great Library of Alexandria was never destroyed. In this world, the Library controls nearly everything. With the help of alchemy, the Library can transmit books instantly, but it's illegal for anyone to own personal copies of books. The punishment for anyone who does–or for those who deal in smuggled books–is severe.
For Jess Brightwell, smuggling books is the family business. It's all he's ever known, and he doesn't much like it. Now, his father has a new task for him. He's to become a postulate in the Library, being trained for eventual service to the Library. His dad wants Jess to use his new role for information. Jess agrees, but he finds himself in the midst of more danger than he could have ever imagined.
Even though Jess has spent his life thumbing his nose at the Library, he believes it does important work. That belief, however, will soon be tested. Jess and his fellow students are asked to basically enter a war zone to retrieve some rare books. In the process, they see death, destruction, and the absolute worst of humanity. It doesn't take long for Jess to grasp that the Library truly does place more value on knowledge–and its exclusive hold on that knowledge–than it does on human life.
The more Jess learns about the Library, the more he questions what's really going on around him. Those questions only multiply when he realizes how far the Library is willing to go to preserve its power and keep its secrets.
Is there any way for Jess to stand against such a powerful entity? What will happen to him and his friends if they get in the Library's way?
---
A world in which a library runs everything. The librarian in me is thinking, "That sounds absolutely wonderful." Yeah…not so much. As the saying goes, "Absolute power corrupts absolutely." I guess that's true for librarians, too. In Ink and Bone, the Library will do whatever it takes to hold onto its power, even spying on, sabotaging, or killing its own people.
Jess and company witness the Library commit horrible atrocities in this book, and it often feels like they are helpless against such brutality. Even at the end of the book, there's barely a glimmer of hope. But there is some hope, especially given that there are two more books in this series.
Book two, Paper and Fire, is already out, and book three, Ash and Quill, will be released on July 11th. Something tells me that things are going to get worse for Jess and company before they get better, but I have every intention of reading the rest of this enthralling series, no matter how painful it may be.
In case you were wondering, I would recommend this book for teens, adults, and perhaps some mature middle school students. Ink and Bone is full of savage violence and intrigue, and, while it could generate some very interesting discussions (especially in our current political climate), I don't think this book is geared toward most middle grade readers.
If you'd like to learn more about Ink and Bone and other books by Rachel Caine, check out the author's website. You can also connect with the author on Twitter, Facebook, and Tumblr.