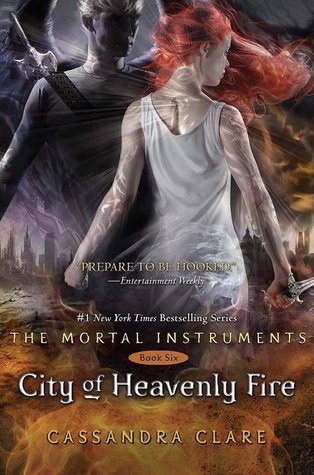 If you've come here looking for spoilers, you have definitely come to the wrong place. As a matter of fact, I'm not going to tell you much of anything about City of Heavenly Fire, the long-awaited conclusion to Cassandra Clare's Mortal Instruments series. Do yourself a favor and read it. And the rest of the series. And the prequel trilogy. And anything else that Cassie Clare writes. Even if it's her grocery list. I'm pretty sure even that would be epic.
For those not caught up with all things Shadowhunter, you absolutely MUST read the first five books of the Mortal Instruments saga before picking up City of Heavenly Fire. Those books are City of Bones, City of Ashes, City of Glass, City of Fallen Angels, and City of Lost Souls. (And no, seeing the movie adaptation of City of Bones is not a substitute for reading the book. In my opinion, the movie was absolute crap and didn't begin to do the book justice.) I'd also highly recommend reading the prequel series, The Infernal Devices (Clockwork Angel, Clockwork Prince, and Clockwork Princess). There's a fair amount of crossover, and you may not get the importance of certain things if you don't have the background provided in the prequels. (Hint: Brother Zachariah for the win!)
I honestly don't know what I can say about City of Heavenly Fire without giving too much away. From the very first page, I was enthralled, and I'm still processing a lot of what happened. Throughout this 725-page tome, I laughed, I cried, and I got angry. It was an emotional journey, and one that I won't soon forget…especially since I was extremely worried about my favorite character for much of the latter part of the book. (If you've read my other posts on these books, you likely know who I'm talking about.)
Those of you who've read the series thus far will get everything you've come to expect in a Mortal Instruments book. Snarkiness, sadness, redemption, action, emotional upheaval, intense battles, loss, fear, laughter, and love overcoming seemingly insurmountable odds. The characters we met in the first book–Clary, Jace, Simon, Alec, Isabelle, and Magnus–have grown so much, endured so much, to get where they are, and this final war with Sebastian, Clary's own brother, is their greatest battle yet. They are being tempered in a great fire, and, if they emerge, they will be stronger than ever.
I will say that the ending, while heart-breaking at times, was rather satisfying, and didn't leave me with–you know–the urge to throw the book across the room or egg the author's house. (I cannot say the same for my feelings when I finished reading Allegiant.) I felt it was a very fitting end to a beloved series, and it served well as a new beginning for many of the characters who've come to mean so much to me.
The official City of Heavenly Fire book trailer was released a few weeks before the book, and it captures the basic mood of the book. (I will admit I'm not crazy about the trailer. Something about it felt a bit off. The same is definitely NOT true of the book!) Check it about below, compare it to the book, and judge for yourself.
I first met these characters six years ago, and I've enjoyed every minute of the time we've spent together. Luckily, I don't really have to say goodbye. I'm fairly certain I'll see them again in Cassie Clare's next Shadowhunter series, The Dark Artifices. We definitely get glimpses of what we'll encounter in the new series, starting with Lady Midnight in 2015. Our newest adventure will center around Julian Blackthorn and Emma Carstairs in the Los Angeles Institute, and, if what I saw in City of Heavenly Fire is accurate, we can expect another thrill ride from these young Shadowhunters!
***************
I know this post didn't give you a ton of information about City of Heavenly Fire, and I do apologize for that. It's just that this series means a great deal to me, and I find it rather difficult to put my thoughts on it into words. Those I've used here don't feel adequate in any way. If you take anything away from this, though, I hope it's this: Read anything you can find by Cassandra Clare. She will wrap you up in an intense story, give you characters you grow to love, and teach you a little something about caring for your fellow man (or vampire, werewolf, warlock, whatever) along the way. Her books–this one and any others–are not to be missed.