Warning: Read the first two books in Allen Zadoff's The Unknown Assassin series, I Am the Weapon and I Am the Mission, before proceeding.
Happy publication day to Allen Zadoff! The third and final book of The Unknown Assassin trilogy, I Am the Traitor, drops today. Thanks to NetGalley, I was able to finish this book yesterday, so now I'm sharing what I think about it (and the series as a whole) with all of you. You're welcome.
I Am the Traitor continues the story of a sixteen-year-old boy involved with a shadow organization known only as The Program. In the previous two books, this boy began to question his place in The Program, his orders, and the bits of information they chose to reveal. Now, he's on the run, and he's trying to uncover the truth about his past and what The Program is really trying to do. He doesn't know who to trust, and the odds of getting out of this mess alive aren't looking good…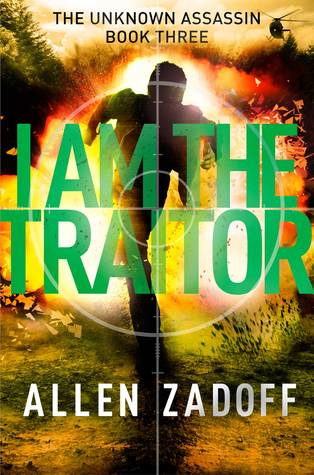 He's sixteen years old, he's a highly trained assassin, and he's on a collision course with the truth about himself and his past.
He's been known by many names–Ben, Daniel, and others on dozens of missions with The Program. Now, though, he's returning to his true name, Zach Abram, and he's doing everything possible to find out what really happened when he was enlisted as a child soldier in The Program. But Zach may not be prepared for some of the answers he receives.
As Zach searches for answers, he must also find a way to rescue the only friend he's ever really had. Howard, a tech genius Zach met on a previous mission, has been captured by The Program. Zach knows Howard is likely being tortured, all because he tried to help find the truth.
When Zach finds Howard, however, he also finds another kid–a girl named Tanya. Zach doesn't completely trust this girl, but there's also something about her that manages to draw him in. In any case, he now has two other people to worry about, and The Program–and one of its top assassins–is closing in.
Even with the constant threat of The Program looming, Zach, Howard, and Tanya manage to find bits and pieces of information on the biggest mystery in Zach's life: What really happened to his parents? Did The Program assassinate them like he's always been told? Were they killed in an accident? Or is the truth much more sinister and complicated? What's really going on, and is Zach prepared to handle what's revealed about his family and his origins with The Program?
A showdown with those who run The Program is coming, and Zach must gear up for the fight of his life. Is he prepared to do what must be done to finally be free? Or will he choose to stay with The Program, an organization that has been the only constant in his life for the past five years? And who can he really trust in this life-changing dilemma?
Decisions must be made, and Zach has to be ready–using all of his Program training–to deal with whatever consequences come his way. Who will he ultimately betray in the end–The Program, his friends, or himself?
Join Zach and company on their quest for the truth when you read I Am the Traitor, the thrilling conclusion to a gripping series by Allen Zadoff!
_______________
Now that I've finished this entire series (I'm guessing), I have to say that I really enjoyed it. It was action-packed, and it definitely kept me guessing. The twist at the end of this final book threw me for a loop, and, though I probably should have seen it coming, I was as surprised as our anti-hero, Zach.
Even though I like a clear-cut ending as much as the next person, I did kind of like that I Am the Traitor left things a bit open. It's really up to the reader (at least at this point) to determine how the story proceeds for Zach and what the ramifications of his decisions will be. My hope is that young writers will develop some interesting fanfiction and show us how things progress for the remaining characters in this series. (Yeah, I said "remaining." Big shocker that not everyone survives in a series about teen assassins.)
Given that violence is a huge part of this entire series, I don't know how comfortable I feel recommending these books to middle grade readers. (Yes, I realize they likely see this stuff all the time in video games, TV, and movies, not to mention the evening news. I don't have to pile on, though.) Also, I Am the Traitor has an instance or two of sexy times. (Again, I'm not so naive that I think younger readers don't experience or know anything about sex. Again, I don't have to pile on.) With all of that stuff together, I would say the series as a whole is better suited to those in high school and beyond. Ultimately, however, it's up to you to decide what belongs in your classroom, school, or personal library. I'm just a messenger.
In closing, if you like The Bourne Identity and other psychological thrillers with a bit of political intrigue thrown in, give the Unknown Assassin trilogy a try. I hope you enjoy this wild ride as much as I did!
For more information about I Am the Traitor, the rest of the series, and author Allen Zadoff, check out the author's website, Twitter feed, the series Facebook page, and Goodreads.
*Note: You may often find this series referred to by different names, Boy Nobody being the most prevalent.*