Notice: I highly recommend that you read Red Queen before proceeding. This is not a spoilery post, but you still need to read the first book. (It's not a bad idea to read Queen Song and Steel Scars as well. These two novellas provide a bit of perspective when going into the second full-length novel in this outstanding series.)
Now, let's move on to Glass Sword, the second book in Victoria Aveyard's Red Queen series…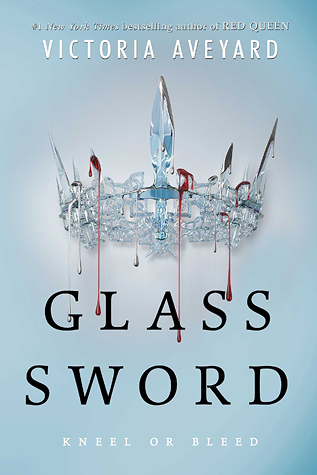 Having finished Glass Sword just minutes ago, I don't know how I'm going to write a coherent post about it considering that I am completely numb right now. That is a sincere compliment to the author of the book. Continuing with my day as planned is going to be a struggle when all I want to do is curl up in the fetal position and think about how much this book wrecked me. (Being an adult with responsibilities kind of sucks at the moment.)
Given that I don't want to spoil the experience for all of you, I'm not going to do my standard recap of the book today. I will say, however, that things don't get better for Mare and company. They're on the run from Queen Elara and the newly crowned King Maven, they're looking for more Reds with power (newbloods), and they're trying to figure out exactly who they can trust. Mare doesn't quite know what to do with herself. Is she a leader? Is she the face of a revolution? Is her loyalty to the Scarlet Guard, her family, all of the newbloods out there…or is she only loyal to herself? There are no easy answers, but Mare needs to figure out where she stands before she becomes just like the monsters she's running from.
Glass Sword is not a book that will give you the warm-fuzzies. Even though it's hinted at, there's no grand romance going on here. (That may come in future books. I'm not sure.) The characters are in the midst of a war, and nothing about it is pretty. It's gruesome, gritty, and real. (Yes, I know this is a fantasy/sci-fi book. It still manages to capture the horrors of war in a realistic way.)
Glass Sword is, in my opinion, 100% Mare's story of how her circumstances drive her to do both noble and terrible things. She's proud of some of her actions and horrified at others. She drives people away while longing to hold them close. She sacrifices pieces of herself for her cause and forces herself to harden her heart. This war is taking its toll on Mare, and she doesn't know if she can handle the cost. Even with everything she's done–and will have to do–Mare isn't sure that it will be enough to stop Maven and prevent even more lives from being lost.
I'll go ahead and tell you that there is no happy ending in this book–which is true for many "second books" in a series. At the end of this one, you're going to want to immediately dive into the next book…but you can't. The third book, currently untitled, won't be out until sometime next year, so we've got a wait ahead of us.
I hope I've whetted your appetite for Glass Sword without giving too much away. If you want to learn more about Glass Sword, Red Queen and Victoria Aveyard, visit the author's website, blog, Twitter feed, or Facebook page. You can also check out the book trailer below. It does a good job of summing up Glass Sword without revealing a ton.