I don't quite know how I feel about my latest read, Every Exquisite Thing by Matthew Quick. This book, which will be released next month, is the first Matthew Quick book I've read, but I doubt it will be the last. (Forgive Me, Leonard Peacock has been on my TBR pile for quite a while.) Even though I'm still pondering what I think about the book, the most important thing is that it did make me think. I have a feeling many other readers will feel the same way.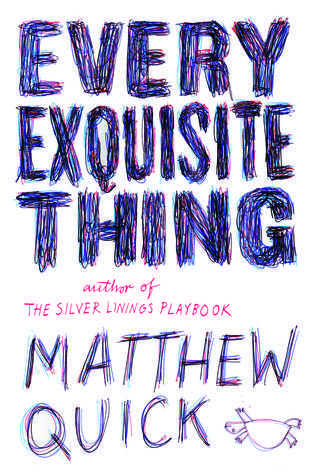 Nanette O'Hare is a girl who has it all together. She's a good student, a star soccer player, and a rule-follower. She thinks she knows exactly what path her life is going to take…until her favorite teacher introduces her to The Bubblegum Reaper, a book that changes everything Nanette believes about herself and the world around her.
Nanette quickly becomes obsessed with The Bubblegum Reaper and its author, and, for the first time in her life, she questions the path she's on. What if she doesn't want to play soccer? What if she doesn't want to hang out with her superficial friends? What if she doesn't want to go to college? Suddenly, it's okay to ask these questions and break free from everything she's supposed to do.
While Nanette is rebelling against the life others have chosen for her, she's joined by Booker, the reclusive author of The Bubblegum Reaper, who never wants to talk about his only published work; Alex, another fan of Booker's novel, a boy who maybe takes the whole "rebel against the norm" thing too far; and Oliver, a kid who is tormented at school and needs someone to fight for him. Nanette believes she's found kindred spirits in all three of these people, especially Alex.
Nanette and Alex grow closer, united in their rebellion against the status quo. But what will happen when Alex begins to lose himself, when he gets into trouble that he can't talk his way out of? How will Nanette cope? Will she lose herself, too? Will she revert to the girl she once was–just going through the motions of "normal" life–or will she find a way to remain true to herself?
Read Every Exquisite Thing by Matthew Quick to witness how a book changes one girl's life, helps her find her voice, and makes her really look at the world around her and begin to find her own place in it.
---
When I was reading this book, I sympathized with Nanette, worried about her, and kind of wanted to be her. When she finally asserted herself and demanded that others see the "real" her, I cheered…and wished that I could do the same thing. When Nanette was both drawn to and repelled by Alex and his almost manic sense of rebellion, I wanted to shout at her to run away from what would surely be a destructive relationship. (In many ways, I was absolutely correct.) When she did what was expected of her, I did a bit of internal screaming, raging at her to wake up and live her own life. Suffice it to say, this character–the whole cast, really–elicited a lot of feelings, and most of them weren't particularly comfortable.
Throughout the course of this book, I wanted those around Nanette–especially her parents–to see just how lonely she was and find some way to truly understand her. While that only sort of happened, Nanette did gain a greater understanding of herself. She was no longer content to simply do what everyone expected of her. Yes, some people got hurt, some judged her, and even those closest to her didn't get why she was, in their eyes, throwing everything away. Nanette didn't care. She eventually learned to live her own life instead of the one others wanted her to live. That's something that many adults–myself included–still struggle with.
I guess, thanks to putting my thoughts into this post, I've realized just how much I really did like this book. It isn't a happy-go-lucky book, and it's not something you can read and never think about again. This book, like The Bubblegum Reaper, makes readers think and examine their own lives and who they're living for. To some adults, that's a dangerous concept to present to teen readers (and may explain why The Catcher in the Rye is still one of the most banned books around).
I do think Every Exquisite Thing is a book for mature teen readers. It deals with some adult situations and language that the vast majority of middle grade readers (and some teens and adults) are not ready to handle. This is a novel that invites some fairly intense philosophical questions, so be prepared for that.
For those that want to learn a bit more about Every Exquisite Thing, which will be out on May 31st, and other novels by Matthew Quick, check out the author's website. You can also connect with him on Facebook and Twitter.