I've been a huge fan of Rick Riordan's books since I first picked up The Lightning Thief nearly six years ago. (Notice I said "books." The movie adaptations of The Lightning Thief and The Sea of Monsters are horrible and should be avoided. I'm pretty sure Mr. Riordan agrees with me.) Since then, I've devoured the entire Percy Jackson and the Olympians series, The Kane Chronicles, and The Heroes of Olympus. (I still have Percy Jackson's Greek Gods and Greek Heroes in my to-read pile. I'll get to those soon.)
Anyhoo, I say all that to introduce Riordan's latest book–the first book in a new series–The Sword of Summer. Previous series gave us tastes of Greek, Roman, and Egyptian mythology. This one, Magnus Chase and the Gods of Asgard, provides readers with a closer look at Norse mythology. As you've likely guessed, this series focuses on Magnus Chase (notice the familiar last name) and the realization that he's got a pretty major role to play in preventing the end of the world, or Ragnarok. No biggie, right?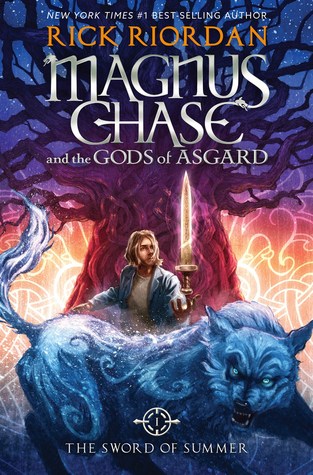 For the past couple of years, Magnus Chase has been on his own. Following the traumatic death of his mother, Magnus left his home behind and survived on Boston's streets, relying only on the help of friends Blitz and Hearth to get by.
Magnus always feels as though he's being watched, and he soon realizes that people are actively searching for him. His Uncle Randolph eventually does track him down only to saddle Magnus with some rather huge pieces of news: Magnus is a Norse demigod, he must find his father's sword–the Sword of Summer–and do whatever he can to delay Ragnarok. No pressure.
As soon as Magnus learns the truth about his father (or some of it, at least), he knows a huge target is on his back. It quickly becomes abundantly clear that he's absolutely correct. The fire giant, Surt, is determined to get the Sword of Summer, and he'll do everything in his considerable power to obtain the weapon, including kill Magnus.
For Magnus, though, death is when the real adventure begins…
_______________
I'm going to stop here before I give too much more away. A lot happens in this book, and it's really something you need to experience for yourself. Suffice it to say that Magnus Chase is everything we've come to expect from one of Rick Riordan's heroes. He's sarcastic, brave, and totally real…and he's only one of the amazing characters in this book. I haven't even touched on the wonderfully diverse cast of this book. I will say, though, that it includes a fashion-savvy dwarf, a deaf elf who doesn't let his "disability" slow him down, and a Muslim Valkyrie. (Yes, you read that last bit right. It's awesome.)
Now, I must confess that most of what I know about Norse mythology comes from Marvel, both comic books and the Marvel Cinematic Universe. I had to throw a lot of that out the window almost immediately. I'm only a little sad about that. I do love Tom Hiddleston's portrayal of Loki…so much so that I'm looking at a stand-up of him as I write this. Don't believe me?
At any rate, even though I had to forget most of what I thought I knew about Norse mythology, that didn't slow my reading down at all. Riordan is great about explaining unfamiliar phrases (and there is a handy glossary in the back of the book), so it didn't take very long to become familiar with the Norse gods and other assorted creatures. (After reading The Sword of Summer, I have to say that I'm particularly intrigued by Ratatosk, the immortal squirrel that terrorizes people in Yggdrasil, the World Tree. Makes me think twice about making the squirrels in my yard mad at me.)
I would say that The Sword of Summer is a must-purchase for libraries that serve middle grade and teen readers. Upper elementary may be a bit of a question mark, depending on your population. There are a couple of instances of cursing, but it's really nothing gratuitous. I made the decision to place a couple of copies of this book in my elementary library, and I've had no complaints. It's mostly 4th and 5th graders reading the book, and they're gobbling it up. My students who love all of Riordan's other books love The Sword of Summer just as much, and they've only had positive things to say. I call that a win.
The next book in the Magnus Chase and the Gods of Asgard series is The Hammer of Thor. (One guess what that focuses on!) It's slated for an October 4th, 2016, release. As usual, we've got a wait ahead of us.
Never fear, though, my fellow Riordan fans! There's another series to look forward to! On May 3rd, we'll get our hands on The Hidden Oracle, the first book in The Trials of Apollo. In this series, the god Apollo is made a human teenager after angering Zeus. (The horror!) He has to navigate the human world and try to find a way to be welcomed back to Olympus. And where does he go for help? Camp Half-Blood, of course! Exciting stuff!
If you'd like to learn more about The Sword of Summer and the other outstanding books by Rick Riordan, check out the author's website. You can also catch up with him on Twitter, Tumblr, Blogspot, and Facebook. Additionally, here's a trailer for The Sword of Summer produced by Disney Books. It doesn't give too much away, but I hope it whets your appetite for this wonderful book.