The lists of nominees for the 2017-18 South Carolina Book Awards were recently released, so I have a whole new reading list to take care of. I decided to read of one of the new Children's Book Award nominees this weekend.
Most people familiar with children's literature know Katherine Applegate for her outstanding Newbery-winning book, The One and Only Ivan. In Crenshaw, she gives readers yet another heart-warming story. This moving book takes a look at one boy's life and the sudden reappearance of his imaginary friend, a very large cat named Crenshaw.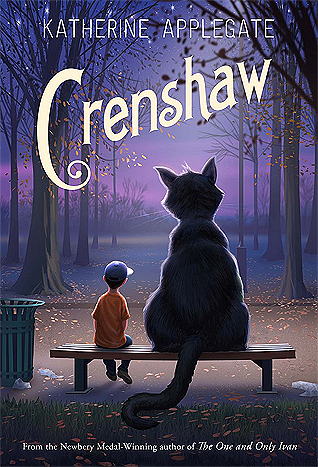 Jackson likes facts. He thinks there's always a logical explanation for everything around him. So, obviously, there is some plausible reason for the presence of the surfboarding, human-sized, talking cat in front of him.
Jackson knows this cat. It's Crenshaw, his imaginary friend from years ago, and there's no rational explanation for his reappearance, so Jackson pretends he's not seeing what's right in front of his eyes. It's just not possible. But he still has Crenshaw sightings from time to time. What's going on here? Why is Crenshaw hanging around now, when he's been gone for so long?
Well, it might have something to do with the stress of Jackson's life. While Jackson's parents are struggling to make ends meet, Jackson, his little sister, and their dog are dealing with being hungry, losing their few possessions, and possibly having to live in the family car. Jackson remembers when this happened before–and his first meeting with Crenshaw–and he doesn't want to go through that again.
Could Crenshaw's reappearance have something to do with Jackson's worries? What could this strange cat–a cat only he (and maybe his dog) can see–possibly do to make things better? Crenshaw can't take away Dad's health problems. He can't give Jackson's parents the money they need for rent and all their other bills. He can't make sure Jackson and his sister have enough to eat. So why is he here?
As hard as it is for Jackson to accept, some things simply defy logic. Maybe Crenshaw is back simply because Jackson needs him. Not to make everything better, but to be a friend when Jackson needs someone–human or feline, real or imagined–the most.
---
I liked Crenshaw, but I do wish it had a lot more Crenshaw in it. I feel like the book could have explored the relationship between Jackson and Crenshaw a bit more. It would have made the book stronger, meatier, and even more absorbing than it already was.
I think Crenshaw provides young readers with an accessible, easy-to-read look at what it may be like for kids who deal with homelessness or simply not having "enough." The imaginary friend element is really secondary in this story. The primary focus of Crenshaw is how one young boy handles his family falling on hard times, and this book approaches the issue with creativity, empathy, and, hard as it is to believe in a book with an imaginary cat, realism.
To learn more about this book and author Katherine Applegate, check out this Crenshaw website. You may also like this book trailer produced by Macmillan Children's Publishing. Enjoy!