Read Crash, the first book in Lisa McMann's Visions series, before proceeding. These are definitely not stand-alone books. The second book, Bang, will be extremely confusing if you haven't read book one.
I'm not going to give much of a prelude to Bang, the second book in the Visions trilogy. (I just closed a book fair–which I unknowingly scheduled during the full moon–and I'm so far beyond tired that I can barely think straight.) If you enjoyed the first book, I think you'll love Bang just as much…if not more.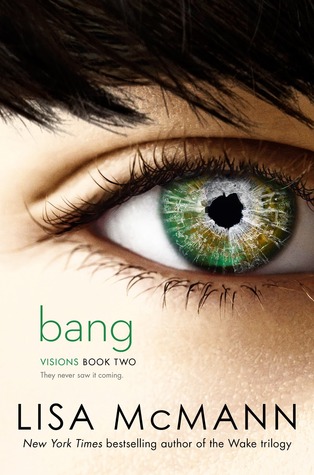 In Crash, we met Jules DeMarco, a sixteen-year-old plagued by disturbing visions of the future. She saw a truck crashing into a rival Italian restaurant and exploding, killing up to nine people. Thanks to lots of investigating and a bit of luck, Jules was able to prevent a horrible tragedy. One of the lives she saved was Sawyer Angotti, the son of her father's most hated enemy.
Now, Jules and Sawyer are a couple, but this couple is facing something that most don't. It seems that Sawyer is now having visions of the future. Jules doesn't know how or why this mess was passed along to Sawyer, but she's determined to help him figure things out and do whatever she can to stop another tragedy from occurring.
While Jules saw visions of a truck running into a restaurant, Sawyer sees something very different, and he's having trouble coping with his visions and how he can possibly turn things around. He sees what appears to be a classroom, a gunman in black, and bodies piled all around. Yes, his vision seems to be pointing to an eminent school shooting, and the thought that it's up to Sawyer to stop it is enough to send him into a panic.
Jules knows how Sawyer feels, but she's also frustrated that she can't see the visions herself. All she can do is guide him as best she can and trust in this boy who has come to mean so much to her.
Even though they have the odds stacked against them–visions of a disturbing future, a family feud, abusive parents, etc.–Jules and Sawyer do what they must to be together…and to stop a lunatic from taking innocent lives. Will they be able to solve this mystery before tragedy strikes again, or will they get embroiled in a situation so dangerous that they are caught in the crossfire? Read Bang by Lisa McMann to discover the truth for yourself!
_______________
If possible, I think I enjoyed Bang even more than I did Crash. I liked seeing how the relationship between Jules and Sawyer developed. Things were quite steamy at times, but I honestly believe this was a realistic depiction of two teenagers in love, especially when the relationship is essentially forbidden by their parents. (There's definitely a Romeo and Juliet vibe here…but, you know, without the senseless suicide.) They had to sneak around to be together, lie to the people around them, and take whatever time they could get. I think all the secrecy added yet another element of danger to their relationship–because the terrible visions weren't enough–that made their being together even more appealing.
*Note: The "sexy times" in this book, while not terribly graphic, are frank. Jules, the book's narrator, doesn't hold her feelings back, and the reader sees just how Jules feels about her first foray into a romantic relationship. Some middle grade readers–I hope–are probably not ready for this, so use caution when recommending this book to tweens and younger teens.*
Another thing I appreciated about this book and its predecessor was how close Jules was with her siblings, Trey and Rowan. That closeness extended to Sawyer when he was experiencing the lowest of lows in his life. These kids had to deal with more than most their age, and they did it with maturity. Sure, they had to break some rules, lie, and sneak around, but what do you expect when their parents are unreasonable, crazy, and even downright abusive?! I'd probably do the same thing! Through everything, though, they stuck together and presented a united front. I find that admirable.
I am looking forward to Gasp, the next book in this series. Given that these strange visions are seemingly passed from person to person, I'm curious to see who will be cursed with this "ability" in the next book. I guess I'll find out on June 3rd!
If you can't wait until June 3rd to learn more about Bang, Crash, and more from author Lisa McMann, check out the author's website, Facebook, Twitter, or Pinterest.