A word to the wise: Read Three Times Lucky before diving into The Ghosts of Tupelo Landing…or this post. While it's not absolutely necessary to read the first book before the second, it is a good idea. Also, if you read the second book, you're going to want to see what preceded it, so you might as well read the books in order.
A few years ago, Three Times Lucky by Sheila Turnage was a nominee for the 2013-14 South Carolina Children's Book Award. Now, the sequel, The Ghosts of Tupelo Landing, has made it to the same list for 2016-17. If you go back and read my post on the first book, all the same stuff applies to this one. This series–which currently includes three books–has one of the best examples of character voice and descriptive language that I've come across in my six years as an elementary school librarian. Readers of all ages are sure to adore Mo LoBeau and her trusty sidekick, Dale Earnhardt Johnson III, and the trouble they find with their work in the Desperado Detective Agency.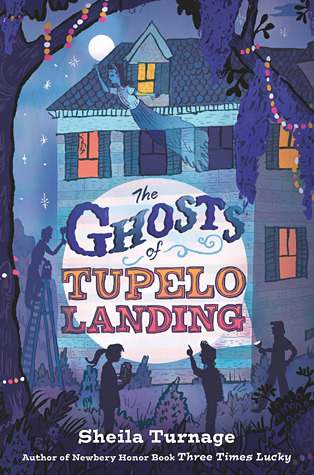 All anyone can talk about lately in the small town of Tupelo Landing, North Carolina, is the auction of the old–supposedly haunted–inn. Mo LoBeau, co-founder of the Desperado Detective Agency, doesn't go looking to take on a haunted inn as one of her cases, but things have a way of falling into her lap, especially when Miss Lana and Grandmother Miss Lacy Thornton sort of accidentally purchase the inn in question.
Pretty soon, Mo and Dale are doing their best to solve the big mystery of the Tupelo Inn…while getting a bona fide supernatural source for their big history report. Sure, it gets scary at times, but these Mo and Dale–along with a new and unexpected ally–are on the case, and they're determined to find out what this ghost's story is.
As often happens, especially when it comes to matters involving Mo LoBeau, things get complicated quickly. Someone–or something–is trying to keep Mo and company out of the inn. What could anyone else possibly want with an old, broken down inn? Besides a ghost, what other secrets could this old place be hiding?
Mo and Dale are getting closer and closer to discovering the truth about the Tupelo Inn and its ghostly inhabitant, but what else will they discover along the way? Some people may not encounter an actual ghost, but they may be haunted by their pasts just the same. Can Mo and Dale solve more than one mystery surrounding this inn…before it's too late?
Help Mo and Dale unravel the mystery of the Tupelo Inn when you read The Ghosts of Tupelo Landing by Sheila Turnage!
---
I don't think this post in any way captures what an outstanding book this is. It is moving, mysterious, and laugh-out-loud funny. That's not a combo one sees all that often, but Sheila Turnage makes it look effortless. I am now super-eager to get my hands on the third Mo and Dale book, The Odds of Getting Even. Like Three Times Lucky and The Ghosts of Tupelo Landing, the third installment stays checked out of my library, so I've got a wait ahead of me.
The Ghosts of Tupelo Landing and the other books in this series would serve as excellent class read-alouds, particularly when discussing voice or figurative language. Readers will fall in love with the character of Mo, but they'll also appreciate all of the other unique characters in these books. Many readers who live in small towns may find something familiar–and rather comforting–about Tupelo Landing and its odd assortment of citizens. Maybe they'll be inspired to write their own hometown tales.
If you'd like to learn more about The Ghosts of Tupelo Landing and the other books in this series, be sure to visit author Sheila Turnage's website. You can also like her Facebook page and check out the totally spoiler-free book trailer below. Enjoy!