Spoilers ahead! If you haven't read Dorothy Must Die by Danielle Paige, turn back now. This post focuses on the second full-length novel in the series, The Wicked Will Rise, and I'd hate to ruin this journey for you. That doesn't mean I won't, though.
If you've been following this blog for the past couple of weeks, you've no doubt noticed that I've become a tad obsessed with Danielle Paige's Dorothy Must Die series. It all started, of course, with the first novel, but I quickly became enamored with the three prequel novellas that I read. (For reference, those are No Place Like Oz, The Witch Must Burn, and The Wizard Returns.) In short, I love this series and the fact that it turns everything I thought I knew about Oz on its ear.
I had a feeling that I would also adore the second novel, The Wicked Will Rise, and–aside from one minor thing that may just be my issue–I was right. This book, which was released a couple of days ago, kept me entranced from the very beginning, and I was reluctant to see it end…mainly because I now have to wait a really long time to find out what happens next.
If you're new to this series–and you ignored my warning above–I'll try to quickly fill you in on where things stand as The Wicked Will Rise begins. Here goes…
In Dorothy Must Die, Amy Gumm was transported to Oz from Kansas in a cyclone. This, however, is not the Oz she remembers from books and movies. It's dark, dangerous, and terrifying. Why? Well, because Dorothy returned some years ago, took over, and proceeded to become the most heinous you-know-what in the history of the world. The Scarecrow, Lion, and Tin Woodman are working for her, and Glinda is also doing her part to drain the magic from Oz and keep Dorothy in power (supposedly). Amy, who is new to Oz and walks into all this trouble, teams up with the Revolutionary Order of the Wicked (a bunch of witches who actually blur the lines between good and wicked) and trains for the most important mission in Oz. She must kill Dorothy. Well, things don't exactly go as planned, and that's where we pick up our story in The Wicked Will Rise. (As you can imagine, I just left out a crap-load of details. Do yourself a favor. Read the book.)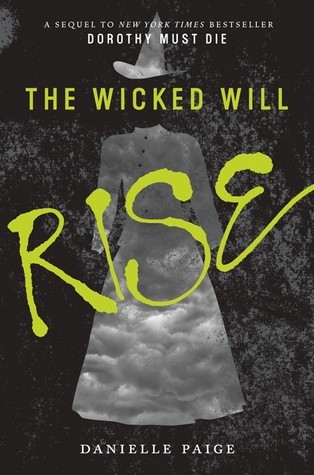 Amy Gumm has failed. She had the chance to kill the evil Dorothy, and she totally blew it. Now, she's on the run with Ozma (the true leader of Oz) and a couple of flying monkeys. She doesn't know where the rest of the Order is, where Dorothy ran off to, or what has become of the Emerald City.
She does, however, know that she must regroup and continue with her tasks. She's already eliminated the threat of the Tin Woodman. Now, she must neutralize the Lion and the Scarecrow before she has any hope of killing her true enemy, Dorothy. To do this, Amy taps into the magic that is coming much more naturally to her now. She becomes so in tune with the dark magic around her, though, that she hardly recognizes who she is becoming. And neither do those around her. Amy is now feared…and she kind of likes it. Is she becoming a Wicked Witch…or something far worse?
As Amy works to reunite with the Revolutionary Order of the Wicked, she encounters a couple of beings that may help her on her way. First is Lulu, Queen of the Wingless Monkeys. This feisty ruler wants little to do with the war that is overtaking Oz, and she lets Amy know that…but she does give Amy a bit of direction on where she should head next. Amy also seeks the aid of Polychrome, the Rainbow Fairy. Polly also wants to stay above the fray, but, as with Lulu, she isn't given choice in the matter. Oz is being destroyed, Ozma is almost literally being torn in two, and Amy will need every ally she can gather to fight her formidable foes.
With all of this going on–and all that is ahead of her–Amy still tries to hold on to the girl she once was. She doesn't want to lose herself to the darkness swirling inside and all around her, but she may need every bit of that darkness to fight against Dorothy, Glinda, and those who seek to betray her. And when Amy realizes that the war in Oz may put her home in Kansas in serious peril, Amy knows she'll have to harness all the power she can to prevent the destruction of everything she's ever known.
Is Amy willing to make the hard choices to save both Oz and the home she left behind? Is she prepared for who she'll have to become to defeat Dorothy and her cronies once and for all? Will she ever truly know who can be trusted and who is orchestrating the chaos around her?
Nothing is clear for Amy and her allies, but one thing is certain. If Oz is to have any hope of survival, the Wicked must rise!
_______________
So…I really, really liked this book. It was action-packed from start to finish, and Amy's journey was fascinating to see. I'm not just talking about her physical journey here, either. Despite her assertions that she's still the same girl from Kansas, Oz has changed her. She's more confident and–dare I say it–bad-ass in this book than she was in Dorothy Must Die. I kind of like it that she's in touch with her dark side. (I imagine, though, that will come back to bite her in the posterior later on.) She's definitely a strong female character who "don't need no man" to fight her battles, but she's smart enough to seek help when she really needs it. Given how the book ended (which I refuse to divulge), I look forward to seeing how this plays out in the future.
Now, for my one teeny issue with this book. Queen Lulu. I have no problem with talking wingless monkeys. More power to them. I'm sure they're lovely. My problem with Lulu is the way she speaks. No, I'm not talking about the fact that she actually, you know, speaks. I'm talking about the words and phrases she uses. One that really stood out was when she said that something wasn't "kosher." How does a wingless monkey from Oz even know what that word means? It just seemed totally unrealistic to the setting, and that's just one example. Maybe language from the Other Place has seeped into Oz over the years, but, if that's the case, it needs to be made clear. I'm sure other characters made similar comments that seemed out of place in Oz, but Lulu's seemed more pronounced to me. Probably because she's a monkey…not that there's anything wrong with that.
All in all, I feel that The Wicked Will Rise is a great book that will appeal to all sorts of readers, but it may not be for everyone. There's quite a bit of "saucy" language, violence, and a girl learning to harness dark magic, so if you're looking for a nice little retelling of The Wizard of Oz to share with kids, you may want to look elsewhere. If, however, you're looking for a book that turns what you think you know upside down, explores the line between good and wicked, and features a kick-butt female protagonist, this entire series may be right up your alley…or your Yellow Brick Road, as it were.
I cannot wait for the next book in the series. Sadly, it seems we have quite the wait ahead of us. Even though there is another prequel novella, Heart of Tin, that will be released on July 28th, according to Goodreads (which I know may not be the most reliable source, but it's all I could find), we'll have to wait until sometime in 2017 for the third full-length Dorothy Must Die novel. *Cue epic Dorothy-inspired temper tantrum here.*
In the meantime, if you want more information about this wicked awesome series (Ha!), visit author Danielle Paige on Goodreads, Twitter, or Facebook. You may also want to check out Epic Reads' book trailer (below) for The Wicked Will Rise. If I hadn't already read the book, this short video would likely convince me to pick it up. Enjoy!