Julie Murphy's Dumplin' had been on my to-read list for a while. I finally decided to read it when it was placed on the nominee list for next year's South Carolina Young Adult Book Award. I finished the book a couple of days ago, and I found it to be extremely relatable, especially if you're a big girl living in the South (or anywhere, really). I, for one, saw some of my own high school experiences reflected in the life of one Willowdean "Dumplin'" Dickson. Maybe you will too.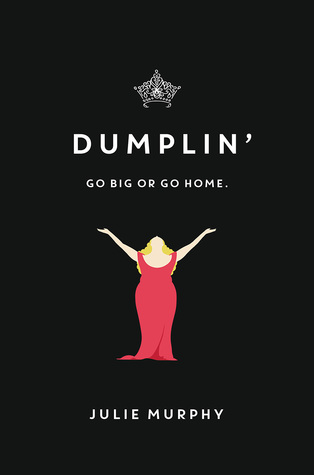 Willowdean Dickson is a fat girl. She knows it; she owns it. What does it really matter anyway? She's relatively happy. She's got a wonderful best friend, Ellen, who's as close as a sister and shares her love of Dolly Parton. She's got a decent job at a local fast food joint where she gets to ogle Bo, a guy who, oddly enough, seems to like her as much as she likes him. Everything's just peachy, right?
Well, not really.
Soon, Will's insecurities about her size start to interfere with her life, much like they did for her beloved Aunt Lucy, who recently passed away. Will is increasingly frustrated with Ellen, who doesn't really get what it's like to live in a large body. Will feels Ellen drawing away from her and toward Callie, a girl who makes her disdain for Will pretty obvious. Will also doesn't quite trust Bo's feelings for her. She freezes when he gets too familiar with her body, and she doesn't understand why a guy like him would want to be with a big girl. On top of all this, her mother, who Will doesn't really connect with, is gearing up for her long-time obsession, the Miss Teen Blue Bonnet Pageant.
The Miss Teen Blue Bonnet Pageant is everything to many of the girls in Will's town. Will's mother was a former pageant winner, and she never lets anyone forget it. When going through her aunt's old papers one day, Will discovers that Lucy, who always struggled with her weight, also wanted to enter the pageant, but she never took that risk. Will, in the blink of an eye, decides to step out on that ledge and do what her aunt wouldn't. She enters the pageant…and her world turns upside down.
Suddenly, a bunch of other girls–girls who wouldn't normally enter a beauty pageant–are following in Will's lead. Will doesn't want to start a whole movement or anything, but that may not be up to her anymore. Ellen has also entered the pageant, and that puts a strain on her relationship with Will, especially considering that Ellen actually has a shot of winning.
Will's mom doesn't think her daughter is taking the pageant seriously, and that adds a whole other level of drama to what is quickly becoming more chaos than Will can handle. And when she's already dealing with boy issues, Will is wondering if she's bitten off more than she can chew.
There's only one question Will needs to answer at this point: What would Dolly do?
As Will begins to more fully embrace who she is, she comes to value the new friends she's made during this pageant madness, but she also looks to repair the damaged relationships in her life. Those between her and her mom, Ellen, and Bo. She's not going to let anything–including her own issues and insecurities–come between her and what she wants anymore.
---
I've spent my entire life as the fat best friend, so I 100% related to much of what Will experienced in Dumplin'. I still have major anxiety about eating in front of other people, showing any part of my body, and a bunch of other issues that I won't get into here. It was not at all difficult for me to place myself in the main character's shoes (or in her late aunt's, for that matter). I've had fights with friends (mostly thin girls) who simply didn't understand that my experiences were different from theirs. They didn't worry about getting made fun of every time they walked down the hall, got up in front of a class, or stepped out of their comfort zone. So, yeah, I get Willowdean.
Having said all that, I will say that some of her experiences were beyond me. I am not now nor have I ever been a pageant girl. I've never understood the appeal. (Apologies to my friends and family members who are all about this stuff.) I've also never had to worry about attracting the attention of a "hot guy," unless it was negative attention, mostly bullying.
While I do relate to Will in this book, I also think parts of it, especially the ending, are a little too neat. Everything kind of wraps up in a nice, neat little bow, and that's just not how things work in the real world. I also think that Will could have done a bit more self-reflection, examining her somewhat hypocritical views on the girls around her, particularly those also competing in the pageant.
Even with a couple of things that gave me pause, I do think Dumplin' is a great book. There's none of that "fat girl only becomes happy when she loses weight" nonsense, which is a major plus. I look forward to seeing more of Willowdean and company in future books. (There's supposed to be a sequel to Dumplin' sometime next year.)
Given that there's some salty language and pretty frank talk of sexy times, I do think Dumplin' is suited to a teen/high school audience. I probably wouldn't place it in a middle school library.
To learn more about Dumplin' and Julie Murphy, visit the author's website. You can also connect with her on Pinterest, Twitter, Tumblr, Instagram, and YouTube.
Finally, if you like Dumplin', you might want to read Revenge of the Girl with the Great Personality by Elizabeth Eulberg.