Given that school starts this week and I still have 795, 463 things to do, I'll endeavor to keep this post short. Here goes…
If you or any teen readers you know like Sherlock, then you definitely need to give Trouble Is a Friend of Mine by Stephanie Tromly a try. If Sherlock Holmes were a 16-year-old American boy, he would be Digby…and awesome. In this highly entertaining book, Zoe (a teen girl version of Watson) encounters Digby after moving to a new area, and life as she knows it is about to get a lot more interesting.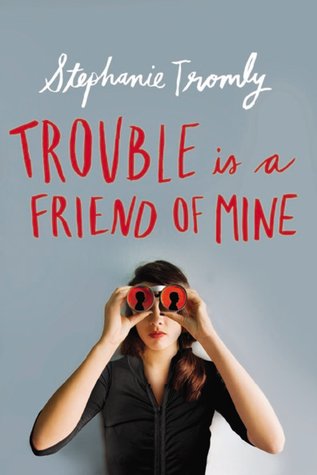 Zoe Webster is just biding her time. All she really wants to do is transfer to the elite Prentiss Academy and get out of this new town, but she's got to deal with her present circumstances first. A clueless mom, a new school, and no friends.
Well, the "no friends" thing may be easier to change than Zoe thinks. One day, a weird kid named Digby shows up at her door and basically informs Zoe that they're going to be friends. Almost against Zoe's will, Digby is right. Even when it leads her directly into the path of trouble, Zoe follows Digby into odd and often dangerous situations, but this strange and brilliant young man usually manages to talk their way out of nearly anything.
Digby and Zoe, along with a couple other colorful characters, manage to find themselves involved in a mystery that includes drugs, kidnapping, cults, attempted murder, and more mayhem than they ever could have expected. (Well, Digby may have expected some of it. Not much gets by him.) They'll have to break every rule on the books–and some laws of common sense–in their attempt to uncover what's really going on.
But why is Digby so invested in this stuff? And why does he insist on bringing Zoe along? Is Digby just a manic genius, or is something more going on? Read Trouble Is a Friend of Mine to find out.
_______________
After reading Trouble Is a Friend of Mine, I must say that Digby is one of the most entertaining, charming characters I've encountered lately. He really keeps this book going simply because the reader never knows what he's going to do or say next.
The parallels between Digby and Sherlock Holmes (as played by the delightful Benedict Cumberbatch) are unmistakable and wonderful. Digby has his own version of the Homeless Network, he bends the rules to get answers, he works with law enforcement (when it suits him), and he observes every little detail around him.
Zoe, for her part, is something of a stabilizing force for Digby, much like Dr. John Watson. Yes, she follows him into danger, but she also, in my opinion, keeps him grounded and lets him know that she'll be his backup. Through the course of their friendship, both Zoe and Digby learn more about themselves, who they can really count on, and just how important their relationship is.
At various points, I think this story wanted to be a romance between Digby and Zoe. It didn't quite happen, but I can see how it might if there were a sequel. (If there is one on the works, I haven't heard about it yet.) Part of me wants Digby and Zoe to get together, but a bigger part wants them to be "just friends." There are too many books out there that force a romantic relationship between two characters, and it would be nice to see a story–or series of stories–where male and female characters can keep things platonic. It would be refreshing, to say the least, and these two characters simply don't need to hook up to continue being their hilarious, charming selves.
Trouble Is a Friend of Mine was released on August 4th, so it's available wherever books are sold. I highly recommend it to any library serving teens (or older readers) who love Sherlock.
If you'd like more information on this excellent book, you can connect with author Stephanie Tromly on Twitter. As far as I can tell, Trouble Is a Friend of Mine is her first book. I sincerely hope this is only the beginning.