Read all of these Dorothy Must Die books and novellas before continuing with this post. (Yes, I'm serious.)
So…you've no doubt gathered that I recently finished reading yet another Dorothy Must Die story. Yes, I'd say that's pretty obvious. The latest story, Dark Side of the Rainbow, is the eighth prequel novella, and it focuses on Polychrome, the fairy in charge of the Rainbow Falls region of Oz. If you're familiar with this series, you'll recall that Polychrome plays an important role in The Wicked Will Rise, and this novella gives a bit of backstory to Polly's involvement (or lack thereof) in the war brewing in Oz.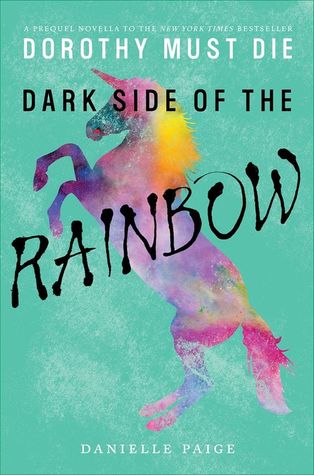 Polychrome really can't complain about her life. She's the Head Fairy in Charge of Rainbow Falls, the hottest vacation spot in Oz. She spends her days partying, surfing, chilling with her pet unicorn (which is not actually a unicorn), and having a grand old time. She doesn't get why her cousin, Ozma, is always so serious. Ozma needs to loosen up and enjoy life a little, like Polly does on a regular basis. Oz will take care of itself.
Oh, if only Polly were right…
One day, a familiar face arrives in Oz and throws everything into chaos. It's Dorothy, the Witchslayer. Polly, who doesn't pay a ton of attention to the goings-on in Emerald City, doesn't know how things have changed since the reappearance of Dorothy. She doesn't know that Cousin Ozma is no longer on the throne. She doesn't know that Dorothy is a power-hungry psycho. She doesn't know that fear permeates everything now. All she knows is that Dorothy is visiting Rainbow Falls, and she wants to be friends. Why, though? Why is Dorothy so determined to get close to Polly?
A new friend of Polly's, a handsome fella named Bright, tries to warn Polly about Dorothy and what she's doing to Oz, but Polly doesn't believe him…at first. Soon enough, however, she sees what's happening, and she tries her best to stop it from reaching her own domain. It may be too late, though…
When Dorothy's true nature is revealed, Polly must do whatever she can to stop this madwoman from destroying Rainbow Falls completely. Will her efforts be enough? Will this laid-back fairy give in to Dorothy, or will she become the leader Rainbow Falls needs in its darkest hour?
---
Maybe it's just me, but I'm seeing parallels to American politics in a Dorothy Must Die story here. Anyone else? Something to think about.
While this wasn't my favorite of the Dorothy Must Die novellas, I did like it, especially considering how things end up for Polly and company in The Wicked Will Rise. (No, I will not spoil it if you haven't caught up.) I wish her relationship with Bright had been explored a bit more, but we still got a pretty decent look at how their relationship began.
Now that Dark Side of the Rainbow is out, we have just one more novella, The Queen of Oz, and the fourth and final novel, The End of Oz. Both have a publication date of March 14th. I'll probably read the novella first and then move on to the novel. We'll see how it goes, but I will definitely be reading both stories as soon as I possibly can.
For more information on the entire Dorothy Must Die series and Danielle Paige, connect with the author on her website, Twitter, Goodreads, and Facebook.