Last night, I finished yet another of next year's South Carolina Young Adult Book Award nominees, All the Bright Places by Jennifer Niven.
Like The Last Time We Say Goodbye–also a SCYABA nominee–All the Bright Places deals with the subject of suicide. The two books differ, however, in how they approach the topic. While The Last Time We Say Goodbye takes a look at what happens after a loved one commits suicide, All the Bright Places kind of shows readers what leads up to it. Yes, this book also gives a glimpse of the fallout, but the bulk of the book focuses on the "before," for lack of a better word.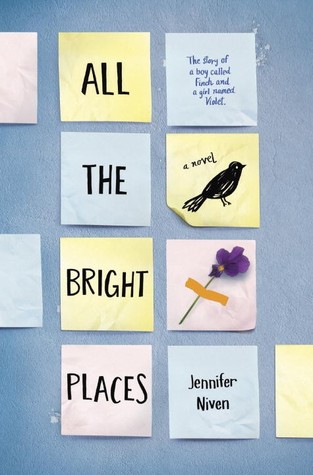 Theodore Finch and Violet Markey meet on the ledge of the school's bell tower. Both of them are there thinking about doing something drastic. In Finch's case, he never really stops thinking about ending it all. Violet, for her part, is overcome by grief following her sister's death and simply wants to escape.
On that fateful day, this unlikely duo eventually climbs down from the bell tower, and, though their classmates think they know what happened up there, no one but Finch and Violet knows the truth. Who really saved whom?
After the "bell tower incident," Finch and Violet partner up for a class project. Their assignment is to explore the wonders of the state of Indiana. At first, Violet is less than enthused about the project…and working with Finch. Ever since her sister's accident, Violet won't get in a car. That sort of limits just how much of Indiana she and Finch can explore. Finch doesn't let that stop them. He's determined to enjoy every moment with Violet. After all, how many moments do they have left together?
As reluctant as she was in the beginning, Violet is enjoying her time with Finch. There's something about his seemingly boundless energy that makes her want to join the world again. But while Violet is starting to live again, Finch wonders how long he can stay "awake."
Finch is pulling Violet out of her self-imposed shell, but he's also retreating into his own. Violet senses something is "off" with Finch, but she doesn't know how to help him…or if he'd even accept any help. And his friends and family don't seem to find anything amiss.
What can Violet do if no one will admit that anything is wrong? And is there any way to stop Finch from doing the unthinkable and leaving Violet to wander this crazy world alone?
---
So, you've probably surmised by now at least a little of what happens in this book. No, there's not some magical happy ending, but it doesn't leave readers feeling totally hopeless, either. As someone whose life has been touched by suicide, I really appreciate that.
Another thing I appreciate about this book is the very realistic way it portrays bipolar disorder and the stigma attached to it and other mental illnesses. Some people–often even those suffering with mental illness themselves–don't think they have an actual medical problem. After all, it's not like they have cancer, diabetes, or anything like that, right? Wrong. People need to pay attention to the signs of mental illness and treat it as the serious medical–and treatable–issue it is. Would attention and treatment have been enough to change the outcome of All the Bright Places? I don't know, but it might be what it takes to save someone you know and love.
If you're a librarian, teacher, parent, or other adult wondering if this book is a good fit for middle grade readers, I would honestly say that I'm not sure. There is some cursing, a couple of sex scenes (which for some reason freaks people out way more than graphic depictions of violence), and very frank talk of death, but that's reality for lots of kids. Yes, even those in middle school. I would say to know your audience. Use your best judgement when recommending this book to anyone, but especially those not yet in high school.
I definitely enjoyed the time I spent with Finch and Violet, and I'm so glad the SCYABA committee chose to place this book on next year's nominee list. All the Bright Places elicited a lot of feelings–not all of them comfortable–and I went through my fair share of tissues while reading. I predict that lots of other readers will have the same experience.
Apparently, we'll be able to see Finch and Violet on the big screen sometime in 2017. Pre-production has already begun on the film adaptation of All the Bright Places, and Elle Fanning has been cast as Violet. I'm sure more will be revealed soon on the book's website (which has tons of great information), but that's all we know for now. This has the potential to be a great movie. I just hope Hollywood doesn't screw it up (like they tend to do).