Sometimes, when it takes me a while to finish a book, it's because I just couldn't get into it. (See my previous post.) Other times, however, my reasons are more complicated. My latest read, I'll Give You the Sun by Jandy Nelson, took me about six weeks to get through, but the problem definitely wasn't that I couldn't get into it. Just the opposite, in fact.
I'll Give You the Sun–like the works of John Green, Gayle Forman, and Rainbow Rowell–is one of those books with the power to completely take over everything, causing me to forget to sleep or eat and making me resent going to work. So, I had to force myself to only pick up this book when I could devote all of my attention to it…and I was finally able to do a lot of that this weekend. I consider it a weekend well spent…even with all of the ugly crying going on.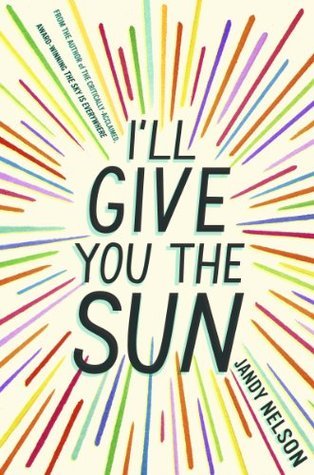 This amazing book tells the story of Jude and Noah, twins who have been torn apart by heart-breaking circumstances. Told in alternating perspectives–the earlier years by Noah and the later years by Jude–this story allows readers to see both sides of a tarnished (yet still beautiful) coin.
Through Noah's eyes, we see Noah and his obsession with the pictures in his head, the enigmatic boy next door, and his fear that both he and his art are simply not good enough. We see Jude, her wild ways, and Noah's confusion over why she's drifting away from him. We also see the pain of being different, Noah's struggle to find–and accept–his own identity, and how secrets big and small have the power to rip a boy's soul to pieces.
Through Jude's eyes, readers see what the twins are like just a few short years later. Jude is no longer the wild child of the bunch. That honor goes to Noah. Jude is now the withdrawn, artistic twin, and she wants to find some way to reach her brother and force him to really be his true self. All the while, Jude is also wrestling with her own ghosts and seeking a measure of peace in her life.
What could have caused such a drastic personality switch in these once-close twins, and is there any way to heal the wounds of the past and move toward a happy future?
With the help of a couple of people with odd connections to the twins' past, there may be hope for these two siblings to once again find each other. The journey will not be without its painful revelations, but, if they can make it through to the other side, they may just find everything they thought they'd lost.
_______________
As so often happens with books that grab me and won't let go, this post doesn't begin to do I'll Give You the Sun justice. I laughed, I cried, and I roared at the vindictiveness of siblings, twins who claim to love each other more than anything. I'll Give You the Sun was an intense, emotional roller coaster, and I honestly wasn't ready for the ride to end. That may be another reason I took my time with this one. On some level, I knew that this book would be one to savor.
For more information on author Jandy Nelson and this amazing book, I encourage you to visit the author's website, Twitter, Facebook, and Goodreads.
*This amazing book is being touted as one of the great new YA reads, and I totally agree with that. I would, however, caution some librarians, teachers, parents, and others that recommend books to young people that I'll Give You the Sun does explore some mature themes–sexual identity and alcohol abuse being two of them. Those themes may be par for the course for many teen readers, but I doubt I'd recommend this book to anyone below the high school level…unless that reader showed incredible maturity. Of course, you know the young people in your lives better than I do, so do what you will.*