Today, I bring you one of next year's nominees for the South Carolina Junior Book Award, Famous Last Words by Katie Alender. The SCJBA nominee list is primarily intended for middle grade readers, but I think Famous Last Words–and probably several others on the list–is a great read for older readers as well. It is an engrossing murder mystery with a supernatural twist that many tween, teen, and adult readers will enjoy.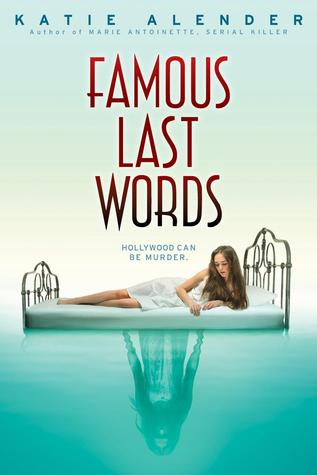 Willa, a girl struggling with her past, has just moved from Connecticut to sunny Los Angeles. Her mother recently married a movie producer, and now Willa must adjust to an entirely new life. It doesn't help matters that there's a serial killer on the prowl in LA, a killer recreating scenes from famous movies. But surely Willa is safe from harm, right? (You can probably guess the answer to that question.)
It doesn't take long for Willa to realize that something isn't quite right in her new home. A strange presence tries to drown her in the pool. She sees words and numbers on the walls, and dead bodies and rose petals appear in the bathtub. No one else sees these terrifying images, and even Willa is starting to think she's crazy. That feeling only increases when she begins to get visions of the Hollywood Killer and his victims. Who is haunting Willa, and what is this being trying to tell her?
As a newcomer in this strange city, there are few people that Willa can go to for help. Her mom and her new husband would never believe her. They'd probably think she was crazy and send her to a mental hospital. Her new "friend" Marnie is a pathological liar and can't exactly be trusted with something like this. Maybe her stepdad's cute assistant, Reed? Possibly. What about Wyatt, her sullen lab partner who has a strange obsession with the Hollywood Killer case?
Who can Willa trust to believe her and help her deal with the horrors she's facing? And can she discover what the ghost in her house is trying to tell her before she's a deranged killer's next victim?
---
I'm going to stop before I give too much away. The fun of a murder mystery is discovering all this stuff for yourself, am I right?!
If I had one problem with this book, it would be the somewhat forced love story. It just didn't make a ton of sense to me, and, honestly, I'd love to see the occasional book with a strong platonic relationship between a girl and a boy. No mention of lovey-dovey stuff. (Wouldn't that be a refreshing change?) For me, this book would have been more believable–even with the ghost story elements–without the romance. Maybe I'm alone in that. Then again, maybe not.
All in all, Famous Last Words is a a quick, easy, entertaining read that will definitely appeal to anyone looking for a good mystery. It kept me hooked from the first page, and I couldn't wait to figure out if I was right about "whodunit." (I called it early on. Let me know if you do, too!)
For more information on Famous Last Words and Katie Alender, visit the author's website, Twitter, Facebook, and Tumblr.
Happy reading!