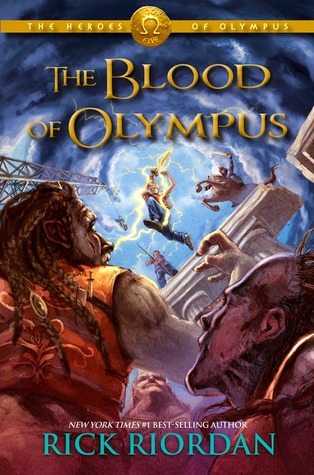 So, the final book in Rick Riordan's Heroes of Olympus series, The Blood of Olympus, was released on Tuesday. As you may have guessed, I rushed to the nearest book store immediately after work and picked up several copies–one for me, one for my library clerk, and a few for my school library. (Honestly, if I'd gone to work on Wednesday without this book, a couple of my students probably would have rioted. Luckily, I was able to avoid that.)
I started reading The Blood of Olympus as soon as I got home. I would have liked to finish the book in one sitting, but, alas, my job and the need for sleep got in the way once again. At any rate, I finished the book two days ago, and I've been processing what happened ever since.
I'm not going to go into a lot of detail in this post because I want to avoid spoilers at all costs. I will say, though, that The Blood of Olympus delivered on all counts. It was action-packed and full of twists and turns, it contained a fair amount of the snark and humor I've come to associate with Rick Riordan, and it even tugged at the heartstrings a bit. I think fans of this series will be totally satisfied with how things concluded for Percy Jackson and the other heroes we've come to know and love. I know I was.
I'm pretty sure the first of my students to check out The Blood of Olympus probably finished it this weekend. I am really looking forward to geeking out with them about what happened. I'm also hoping that other students will see us getting so excited about this book, and they'll want to see for themselves what the big deal is.
Since I'm not going to give any plot details away here, I'll go ahead and start wrapping things up. If you're reading this and wondering what's so special about this series…well, you've got a lot of catching up to do. Here's a handy reading list to get you started!
Percy Jackson & the Olympians series
The Heroes of Olympus series

The Lost Hero (also available as a graphic novel)
The Blood of Olympus
The Demigod Diaries

Percy Jackson's Greek Gods (I still haven't read this one, but I definitely will soon.)
For more information on The Blood of Olympus, the thrilling conclusion an amazing adventure, from Rick Riordan himself, check out the video below…and read this book. You won't be disappointed!
Still want more? Click here for all things demigod!