Warning: At the very least, read The Hidden Oracle, book one in The Trials of Apollo, before proceeding. If you really want to catch up, though, read all the books in the Percy Jackson and the Olympians and The Heroes of Olympus series as well.
I finished reading The Dark Prophecy, the second book in Rick Riordan's The Trials of Apollo series, on Monday. I had every intention of writing up a post on it that day. As you've noticed, that didn't work out. Thanks to after school meetings, household chores, season finales of my favorite shows, and general end-of-school-year stress, I didn't have the time or energy to focus on a blog post. Probably a lame excuse to some, but that's all I've got.
At any rate, I'm here now, and I want to briefly discuss The Dark Prophecy. I'll try to steer clear of too many spoilers, but that may be unavoidable. We'll see how it goes.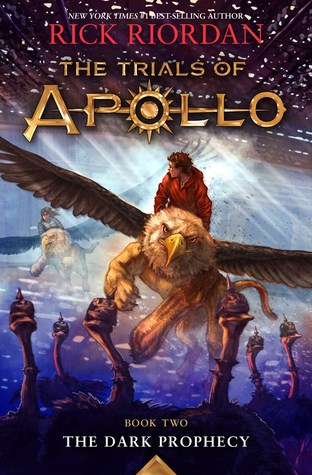 When last we left Apollo, now known as Lester Papadopoulous, he had just been through the wringer at good ol' Camp Half-Blood. He managed to save the one of his oracles, the Grove of Dodona, but he is no closer to regaining his godly status. Meg McCaffrey, the demigod who controls Apollo's fate, seemingly betrayed him to her evil jerk of a stepfather, Nero (known affectionately as "the Beast"). Apollo also had to fight the Colossus Neronis, who nearly destroyed Camp Half-Blood.
Now, with the help of Leo Valdez and Calypso, recently returned from their island exile on Ogygia, Apollo has to rescue yet another oracle before Nero and company take over the world. The next oracle to be saved, the Oracle of Trophonius, is in Indianapolis. When Apollo, Leo, and Calypso arrive in Indianapolis, they discover more than just another bad guy trying to take over the world. They find a place of refuge, some blasts from the past, and people (and other assorted beings) willing to either kill them or provide a bit of help. Sometimes, it's difficult to tell which is which.
As usual, the tasks ahead won't be easy. Our heroes meet all sorts of nefarious types on this quest: extremely polite Blemmyae who still want to kill them, various deities who may or may not want to see Apollo taken down a peg or two, a bloodthirsty villain who thinks very highly of himself, and battle ostriches. (That last thing sounds kind of cool, to be perfectly honest.) Apollo will have to use every tool and trick in his arsenal to come out on top in the many fights ahead of him. But he won't be alone…
In addition to Leo and Calypso, Apollo is joined by the guardians of the Waystation, a haven with what seems to be its own consciousness. He also reunites with Meg McCaffrey. Apollo doesn't know if he can totally trust her, but his fate is tied to her, so he doesn't have a whole lot of choice. There's also the Hunters of Artemis, some rescued demigods, a snake-lady, a couple of griffins, and an elephant named Olivia. With all of this awesome assistance, saving the Oracle of Trophonius should be easy-peasy, right? Yeah…not so much.
While Apollo is trying to figure out just how to accomplish the tasks in front of him, he's forced to examine his previous actions. Did what he did in his godly past in some way lead to what is happening now? Can he possibly atone for his mistakes without putting his current form in mortal peril? (That part may be kind of tricky.)
---
If you loved The Hidden Oracle, you'll likely feel the same way about The Dark Prophecy. Even with all the darkness facing Apollo and friends, they react with the same humor and snark that we've come to know and love. And although Apollo is often his somewhat narcissistic self, he's reflecting on his past and dealing with the many mistakes he made. He may not want to be mortal, but he is coming to terms with his own humanity and the impact he's had on others.
Going back to the humor Rick Riordan is known for, let's not forget the extremely entertaining haiku peppered throughout this book. Once more, each chapter begins with its own haiku foreshadowing what's about to happen, which is way more fun than simple chapter titles. I look forward to seeing more of this in the next books.
Speaking of the next books, there will be three more volumes in The Trials of Apollo. Book three, The Burning Maze, is set to be released on May 1st, 2018, and I'm fairly certain we'll see some of our friends from Camp Jupiter in this one. Not to mention a certain satyr companion that needs no introduction.
While we wait impatiently on the next book, take a peek at Rick Riordan's website. Also, if you haven't already, read the first two books in his Magnus Chase series. The third book, The Ship of the Dead, comes out on October 3rd.