There are some books that should really be packaged with a box of Kleenex. Goodbye Days is one of those books. From Jeff Zentner, author of the William C. Morris Award-winning The Serpent King, comes another novel that absolutely rips your heart out. Goodbye Days isn't one of those books that makes you cry only at the end. No, this one elicits full-on sobbing most of the way through. This novel is at once tragic, poignant, and cathartic, and I adored every last bit of it…even though I was often reading through a veil of tears.
Thanks to NetGalley, I was able to read Goodbye Days a little early, but it's available for the masses on March 7th. If you're wondering if you should buy this book, you absolutely should.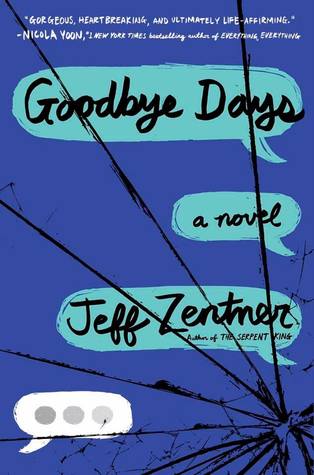 Carver Briggs should be getting ready to enjoy his last year of high school with his three best friends, Mars, Blake, and Eli. Instead, he's attending their funerals and dealing with the knowledge that he played a role in the deaths of those closest to him. How was he supposed to know that sending them a text message–like so many they've sent in the past–would somehow lead to the accident that destroyed everything?
Now, Carver's life without his friends is almost more than he can bear. He's a mess of grief, guilt, and fear. Grief over the loss of his friends; guilt over his role in this tragedy; and fear of what may happen to him if the authorities decide to bring criminal charges against him. Carver doesn't know how to cope with everything, and he's experiencing panic attacks for the first time in his life. Something's got to give.
Thankfully, Carver isn't completely alone. He's supported by his parents (even though he doesn't really confide in them), his wonderful sister, Georgia, and Jesmyn, Eli's girlfriend, who shares her grief with Carver. He's also started seeing a therapist–at his sister's urging–and that's helping him to explore his feelings about everything that's happening.
Then there's Blake's grandmother. She, unlike some of his other friends' family members, doesn't blame Blake for what happened. She comes up with the idea of having a "goodbye day" for Blake, and she wants Carver to share one final day saying goodbye to her grandson. They'll tell stories about Blake, visit his favorite spots, eat his favorite foods…basically, spend one day devoted to Blake's memory.
At first, Carver is apprehensive about this, but he finds the experience somehow cleansing, and he wonders if it's a good idea to have "goodbye days" with the families of his other friends. Some are willing; others are not. Not everyone forgives as readily as Blake's grandmother. Even Carver feels that he's somehow deserving of everything being heaped on him: the criminal investigation, the panic attacks, being a pariah at school, and the thoughts that plague him on a daily basis.
Will Carver ever be able to forgive himself for his role in this horrible tragedy? Will others be able to forgive him? Can a series of "goodbye days" help Carver and his friends' families make some sort of peace with their loss? Will a cloud of grief hover over Carver forever, or will he be able to find a "new normal" with a little help?
---
I don't know what more I can say about this book without telling everything that happens. It wrecked me, maybe more than The Serpent King did…and that's saying a lot.
I think Goodbye Days is a great read for fans of John Green, Rainbow Rowell, and Gayle Forman. Basically, if you like books that tear your heart out, this is the book for you.
In my opinion, Goodbye Days is more suited to a YA audience than a tween crowd. If you plan to market this book to a middle grade audience, read it first. The book is written from a teen guy's perspective, so there is some language and frank talk of "personal growth." (I don't think I need to explain that, do I?) Know your readers, and plan accordingly.
For more information on Goodbye Days and Jeff Zentner (who is now one of my go-to authors for contemporary YA), visit the author's website. You can also connect with Jeff Zentner on Twitter, Instagram, and Facebook.