Since I first read Paranormalcy several years ago, I've tried to read just about everything that Kiersten White has written. So far, I've read the entire Paranormalcy series (Paranormalcy, Supernaturally, and Endlessly), Mind Games and Perfect Lies, In the Shadows (a middle grade novel co-written with Jim Di Bartolo), and even a steampunk short story in Corsets & Clockwork. Well, as of last night, I can add The Chaos of Stars, a dramatic stand-alone novel, to the list of excellent stories by a thoroughly entertaining author.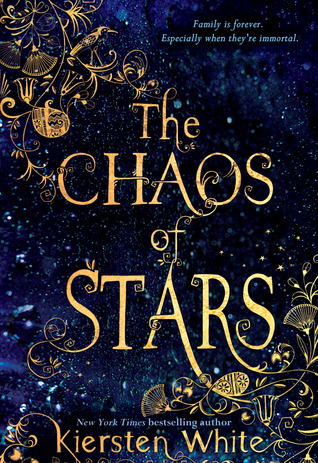 The Chaos of Stars introduces readers to Isadora. Isadora, like many teen girls, is rebelling against her parents. Things are a little different for her, though. Of course, everything's kind of different when your parents are Egyptian deities. That's right. Dear old Mom and Dad are actually Isis and Osiris, and Isadora is their very human daughter.
Isadora is growing tired of existing only to worship her parents, so she takes off to live with her brother in San Diego at the first opportunity. This is her chance to be her own person and escape the pressures of her life in Egypt. Little does she know that she can run from her powerful mother, but Isis will always maintain a little bit of control. Mommy dearest has arranged for Isadora to work in a museum for the summer, managing the new Egyptian collection. (No one—other than Isadora and her brother—realizes that the priceless artifacts were donated by an actual Egyptian goddess. Who would?)
Through her work at the museum, Isadora makes some friends. One of those friends introduces her to an enigmatic young man named Ry. Isadora is oddly drawn to this boy, but she fights the attraction with every fiber of her being. She doesn't want to get involved in something that is destined to end. (It seems that being the human daughter of eternal beings has done quite a number on Isadora's feelings about love.) Every minute she spends with Ry, though, cracks the armor she's built around her heart. What is it about this boy? Why is she so drawn to him? Could he be the one person to really understand her and her complicated family?
While Isadora is examining her feelings for both her family and Ry, she is also confronting a mysterious danger that has followed her from Egypt. She's having disturbing dreams about her mother, and an oddly familiar menace is lurking in the shadows. Someone who thinks Isadora possesses the key to controlling all of the gods of Egypt. Someone who wants to put an end to the reign of Isis…forever.
Can Isadora figure out what's going on in time to save her mother, a woman she's resented for years? Will Isadora finally realize how much her messed up family truly means to her—and how much she means to them–before it's too late? Unwrap* the mystery when you read The Chaos of Stars, a thrilling (and charming) book by the always delightful Kiersten White.
*Unwrap. Get it? A little mummy humor. I thought it was funny.
_______________
If you're looking for a YA book to give to fans of Rick Riordan's Kane Chronicles, I highly recommend The Chaos of Stars. It's a quick, quirky read that will appeal to those who know a bit about Egyptian mythology. (That knowledge isn't totally necessary going in, but it could lead readers to seek out more information!) Also, it's a stand-alone novel, so many readers won't feel the pressure to keep up with yet another series.
The Chaos of Stars is a great book for middle grade and teen readers (and adults, of course). Despite the main character having supernatural parents, I think the issues she faces will resonate with a variety of audiences. She's looking to break free of expectations, she's examining her relationship with her parents, and she's dealing with the often scary feelings of first love. (I'm 35, and I'm still working on a couple of those things.) Kiersten White addresses all of those issues with her characteristic humor and candor, and, through Isadora, I think we can all learn a little more about ourselves and our relationships with others.
If you'd like more information on this book and others by the fabulous Kiersten White, check out her website and Twitter feed. You won't be disappointed. The woman is hilarious!
Happy reading!