A word to the wise: Read Gayle Forman's Just One Day before continuing with Just One Year. In my opinion, you MUST know what leads up to Willem's story prior to opening this companion novel/sequel!
So, I finally finished reading Just One Year late last night. I would have finished it sooner, but I was away at a conference. (To those who think a school librarian's work ends at the start of summer, I say only "I wish!") I got back yesterday afternoon and proceeded to devour the rest of this book. I absolutely adored the first book, told from the perspective of Allyson/Lulu, so I really wanted to see what became of Willem after their one day in Paris.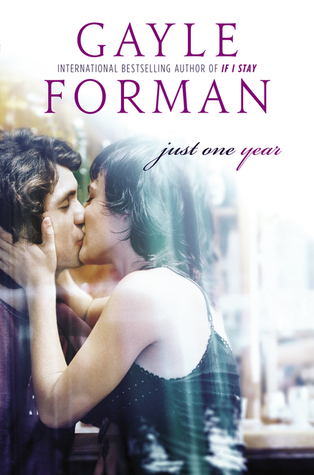 When Willem wakes up, he's not sure where he is. All he really knows is pain and the need to find something he's lost. When he finally recovers enough to think, he remembers the girl, Lulu, who's waiting for him. They shared a magical day in Paris, a day that seemed to change both of them. Willem tries to get back to her, but it's too late. She's gone, and she probably thinks he left and didn't give her another thought. And he can't exactly do anything about that. He doesn't even know her real name…and she doesn't know very much about him either. As much as they discovered about each other during their day together, they don't know how to reach each other again.
Willem tries to find Lulu in Paris, but he's floundering. He retraces their steps through the city, but that leads nowhere quickly, so Willem decides to return home to take care of the business he's been avoiding for so long–settling his father's estate.
Almost immediately upon arriving in Amsterdam, Willem feels the need to escape. The memories are too much, and Willem is feeling the itch to travel…and continue his search for Lulu. When his travels are delayed, he takes solace in his friends and in the arms of a former flame. She's not Lulu, but she keeps him from feeling so lonely all the time. Eventually, though, Willem simply can't fake his feelings anymore, and he must move on.
Willem's journey takes him all through Holland, Mexico, India, and then back to Holland. Through it all, he thinks of Lulu, their one day together, and how that day changed him. He's feeling restless, but his nomadic existence doesn't feel like enough anymore.  He wants a sense of family, he wants real, lasting connections with people, and he wants purpose. Even if he never finds his Lulu, she's at least given him that. She opened his eyes to the world around him and his place in it. (He doesn't know it, but he did the same for her.)
While Willem is on his journey of self-discovery, he never truly abandons his search for Lulu. He explores every connection he can think of, but she seems to constantly be just out of reach. He finds himself wondering if he should leave Lulu and their day in Paris in the past and move on.
But Willem has no way of knowing that fate has different plans. Lulu–or Allyson–has been doing some searching of her own, and she and Willem are about to come face to face once again. Will their connection be as strong now that a year has passed and so much has changed? There's only one way to find out…
_______________
Now that I've read Just One Day and Just One Year, I find myself reflecting on my own reactions to each story. While I sympathized with Allyson, I was a little more judgmental of Willem. I know this says more about my own ideas and responses to emotional upheaval than anything, but I think that's true of any book. We bring our own experiences to the stories we read, and we view the characters through those lenses. What I found really interesting, though, was how my views of Willem's actions changed the more I read this book. Yes, he dealt with things a bit differently than Allyson did, but he had valid, and highly personal, reasons for doing so. And I think that's the mark of a really great book. It makes you examine your own ideas through the experiences of another.
After finishing Just One Year last night, I immediately downloaded and read Just One Night, the last chapter of this love story. (Best $0.99 I've spent in a while.)
This ebook novella gives readers a look at what happened when Willem and Allyson/Lulu were finally reunited and had the opportunity to share their new selves and how they found their way back to each other. There's also a fair amount of kissing (and other displays of affection), a bit of Shakespeare (like the preceding novels), and talk of the future. Will Willem and Allyson have a happy ending to their story? I'll leave that for you do discover!
I failed to mention this in my Just One Day post, but I do believe that this series is suited to young adult (and adult) audiences. There are some mature themes, and I just don't think most middle grade readers have the maturity or life experience to understand some of the content. As always, though, use your best judgment when recommending any book to young readers.
If you're in or around South Carolina in November and want to learn more about Gayle Forman and her fantastic books, I urge you to attend YALLFest, a two-day celebration of young adult literature in Charleston. Gayle is scheduled to attend, and I know she'll have lots of interesting things to say! (I had the privilege of hearing her speak last year, and I loved hearing her talk about her craft.)
For those that can't attend YALLFest but still want more information about this series and others by Gayle Forman, check out her website at http://www.gayleforman.com/. Happy reading!