I've now read four of the twenty books nominated for next year's South Carolina Young Adult Book Award, and I'm sensing a theme. Three of the four books I've read deal, in some form or fashion, with suicide. That includes my latest read, My Heart and Other Black Holes by Jasmine Warga. (The other two books are The Last Time We Say Goodbye and All the Bright Places.) I don't know if any of the other nominees deal with suicide, but I'm kind of hoping for something different as I continue to make my way through the list.
Moving on…
My Heart and Other Black Holes is a good book, and the author definitely captures what it feels like to deal with depression. Both of the major characters are extremely sympathetic, and it's easy to see why they feel the way they do.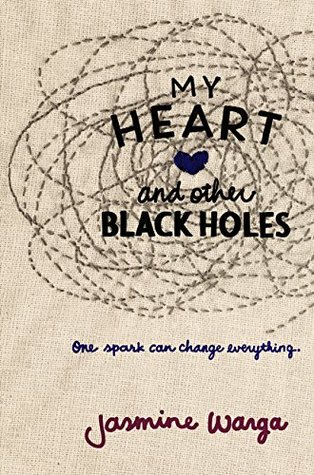 Aysel has two interests: physics and planning her own death. After her father commits a heinous crime, Aysel feels like a pariah in her town, her school, and even within her own family. She's scared that whatever demon had hold of her father is also inside of her, and she wants to end the pain before she causes even more.
Aysel worries that when she finally does decide to end it all that she won't be successful, so she looks for a suicide partner on a website called Smooth Passages. She finds that partner in Roman, a boy in a nearby town who is battling demons of his own.
Roman has a deadline for his suicide. April 7th, the one-year anniversary of his little sister's death. As long as Aysel is willing to do the deed on that date–and not flake out on him–he agrees to be her partner.
So these two very different teens begin to meet and discuss the details of their joint suicide. What neither of them expect is to become friends. Aysel finds that in talking about her depression and her feelings of worthlessness, the load that is weighing her down feels a bit lighter. She hopes that Roman feels the same way, but it seems like his load is still too heavy to bear.
As April 7th draws closer, Aysel becomes more convinced that suicide may not be the answer. Maybe her heart isn't a black hole. Maybe she can put the past behind her and find a way to convert all of her potential energy into something real. But can she help Roman to do the same? Is it possible for Aysel and Roman to look toward the future when the past still has such a vicious hold on them? Can someone so broken be saved?
---
Like I said at the beginning of this post, author Jasmine Warga definitely gets what it feels like to be depressed, and that comes through My Heart and Other Black Holes. As someone who's dealt with depression since my teen years, I appreciate that, and I wish I'd had books like this when I was younger.
As a wannabe science nerd, I also enjoyed all of the physics talk in this book. I especially liked that this talk was coming from a Turkish girl. Even Aysel's thoughts on the physics of death were interesting to read and think about. And ultimately, this interest in something leads to her having some semblance of hope for the future.
All that being said, I do have a couple of issues with this book. One issue is the lack of closure between Aysel and her father. There are hints at the end of the book that a big meeting between the two is coming, but I wanted to see it. I wanted Aysel to confront her father, ask him why he did what he did, and get some clarification regarding his own mental health. I think that would have gone a long way in providing Aysel with the answers she desperately needed, but neither she nor the reader gets those answers.
My biggest issue, though, is with Aysel's miraculous recovery. That sounds awful, but hear me out. The minute she figures out that she has feelings for Roman, she wants to live again. I don't like the idea that this guy, even (or especially) with his tragic circumstances, could magically "cure" Aysel's depression, stop her suicidal thoughts, and turn everything around. That's not how depression works. Love, if that's really what Aysel and Roman feel for each other, is not a cure all, and it's dangerous to give readers the idea that simply finding that "one right person" will put an end to their feelings of hopelessness. Sometimes love is not enough to save someone.
Although I think this book has some problems, I do think it is an entertaining read. Yes, it's dark and deals with serious issues, but the major part of the book gives a realistic look at depression and the scary thoughts that accompany this illness. And, though I have an icky feeling about how the author approaches it, the book does tell readers that there's always hope.
If you'd like to learn more about My Heart and Other Black Holes and Jasmine Warga, check out the author's website. You can also connect with the author via Twitter and Facebook.