Notice: Before reading the post below or Yellow Brick War, the third book in Danielle Paige's Dorothy Must Die series, you must read the books and prequel novellas below. If you're all caught up, proceed at will. If not, you've got some work to do.
With that out of the way, let's move on to Yellow Brick War. I'm not going to do a big recap of the series up to this point. You can read my posts on the books above for that. Let's just jump right in, shall we?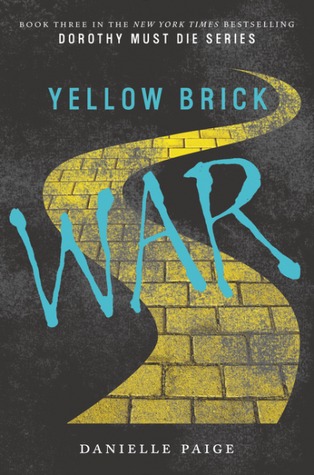 Once again, Amy Gumm has failed in her quest to kill Dorothy. Now, she and the Order of the Wicked are stranded in Kansas, the last place Amy ever wanted to see again…but there might be something hidden here–the silver slippers that Dorothy wore during her first visit to Oz–that could help them defeat Dorothy, Glinda, and their armies before both Oz and Kansas (known to Ozians as the Other Place) are destroyed once and for all. But how is Amy supposed to find a pair of shoes that have been hidden for years and that most people don't think exist? Well, the answer is simple.
She has to go back to high school.
Amy is reluctant to return to the life she left behind, but it is her only option. She reunites with her mother–who has undergone a drastic change for the better–and she encounters Madison, the girl who tormented her all through school. Madison, too, has changed. She's a teen mother dealing with her own struggles and facing ostracism by those who once kowtowed to her. She and Amy form an unlikely alliance, and Amy begins to wonder if coming back to her old life–for good–might really be possible after all.
But nothing is ever that simple when it comes to the battle for Oz…
While Amy is searching her high school for the slippers that will help her and the Wicked return to Oz–because of course these magic shoes are hidden in a Kansas high school–she encounters a terrifying figure that could be even more dangerous than Dorothy or Glinda. It's the ancient Nome King, a powerful, dark creature who has plans of his own for Amy. Could he be the one manipulating everything happening in Oz? Is he somehow connected to Glinda's grab for power or Dorothy's return to Oz and her addiction to magic? Amy's not sure what's going on, but she does know that she must do whatever it takes to save both Oz and her home (a place that's maybe not so bad after all).
With the silver slippers–or combat boots–in her possession, Amy and the Wicked make their return to Oz to discover that things are even bleaker than ever. War with both Glinda and Dorothy is imminent. Amy and friends must gather whatever forces they can if they have any hope of defeating their foes. Amy will have to tap into the dark magic that she finds both terrifying and exhilarating. But will it be enough?
Can Amy and the Wicked win against two enormously powerful fronts? What will be lost in the process? Who will provide help when they need it the most? Will Amy finally be able to kill Dorothy and return balance to Oz? Is a much larger threat just waiting in the wings?
Discover what awaits Amy and her Wicked friends when you read Yellow Brick War, the thrilling third book in Danielle Paige's Dorothy Must Die series!
---
I've left soooo much out of what happens in this book. Just trust me when I say that it's action-packed from start to finish–much like the rest of the series–and I am eager to see how things progress for Amy and company in the final book in the series, The End of Oz. This book is set to be released on February 22nd, 2017.
If February is just too darn far away for you, there are three more prequel novellas to look forward to. One of them, Order of the Wicked (novella 0.7), is already out, and I plan to read it as soon as finish a few other books-in-progress. The other two are not yet titled, and I'm not sure when they'll be out. If the series stays true to form, they'll be available before February.
For more information on this wonderful series and author extraordinaire Danielle Paige, connect with the author on her website, Twitter, Goodreads, and Facebook. You may also want to check out Epic Reads' Yellow Brick War book trailer below. It's pretty great.
Finally, Danielle Paige is scheduled to be at YALLFest again this year, so, if you'd like to attend this outstanding YA book festival in lovely Charleston, SC, this November, click here for more info. I hope to see you there!