These Broken Stars, the first book in the Starbound series by Amie Kaufman and Meagan Spooner, has been out for a few years. For whatever reason, I just managed to read it recently (even though I think I bought it soon after it came out). It took me a little while to get invested in this first book, but, once I did, it took me on quite the thrill ride. I actually finished the last two-thirds of the book today. I can't tell you what else I accomplished today because I was so invested in this incredible piece of YA science fiction. Good times.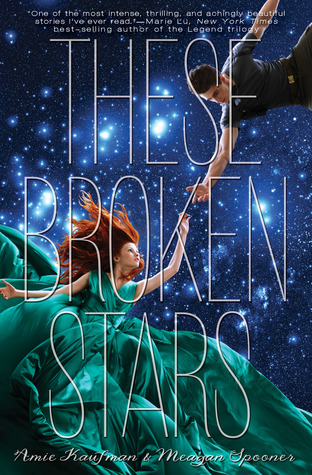 Wealthy socialite Lilac LaRoux and soldier Tarver Merendsen are both passengers aboard the Icarus, a luxurious spaceship making its way across the galaxy. These two young people, separated by class, are very different, but circumstances are about to force them together in a way that neither of them could possibly anticipate.
When the Icarus is thrust out of hyperspace, Lilac and Tarver end up together on an escape pod, and they crash into the planet below. They are the only survivors.
Tarver's primary focus upon landing is survival. As a soldier, he's been in adverse situations before, and he seems to know exactly what to do. Lilac isn't so certain. She's faltering, but she finds the strength she needs to keep moving, even when it's obvious that Tarver expects her to break down.
Breaking down becomes a very real possibility as Tarver and Lilac make their way across this unfamiliar, desolate, and virtually uninhabited world. Their goal is to somehow make it to the wreckage of the Icarus…and the slim hope of rescue. But there's something else going on here as well. Strange whispers seem to be guiding these two, leading them toward something. Are these whispers friends or foes, and what are they trying to tell Tarver and Lilac?
While Tarver and Lilac look for answers on this odd planet–and the hope of rescue grows dim–they also begin to look past their differences and form a nearly unbreakable bond. Maybe rescue isn't what they want at all anymore. Returning to their old lives could tear them apart, and neither of them is ready for that.
Ready or not, forces are at work that have the power to destroy everything. Tarver and Lilac will face losing their minds, each other, and everything they ever believed about their place in the universe. Will they be able to face what's coming and stay together? Or will they survive certain disaster only to be torn from each other's arms?
---
Some of you are probably wondering if this book is appropriate for middle grade readers, and I'm honestly not sure. Portions of the book are rather intense, given the circumstances the characters find themselves in. There's also the matter of Tarver and Lilac exploring their physical relationship. There's nothing gratuitous, but it's obvious what's going on. Personally, I think These Broken Stars is fine for readers in eighth grade and up, but I doubt I'd put it in the hands of a sixth or seventh grader. Do with that what you will.
If you like Beth Revis' Across the Universe series (Across the Universe, A Million Suns, and Shades of Earth), I think you'll definitely enjoy These Broken Stars…and probably the rest of the Starbound series.
Speaking of the rest of the series, book two is This Shattered World, and it introduces a new couple. Book three, Their Fractured Light, brings together the characters from books one and two while also giving readers a new duo to root for. There's also an ebook novella, This Night So Dark, which focuses on Tarver and Lilac and bridges the gap between books one and two. All of these stories are already out, so I don't have to wait to dive right in. Yay!
For more information on the Starbound series, visit Amie Kaufman's website or Meagan Spooner's site. You can also find out how to connect with them on social media on their respective sites.