If you haven't read Jennifer E. Smith's This Is What Happy Looks Like (which is a nominee for the 15-16 South Carolina Young Adult Book Award), do so before reading this post or Happy Again. Spoilers ahead!
So, last year, I read This Is What Happy Looks Like, a great contemporary YA romance by Jennifer E. Smith. After that last page, I wondered where things would go with Ellie and Graham. If you've read the book–and, at this point, I'm assuming you have–you know that things weren't tied up in a neat little bow for them at the book's conclusion. Well, now we have Happy Again, a sequel novella, to help clear things up a bit. Let's dive in, shall we?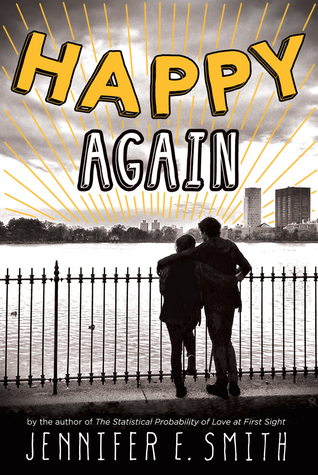 It's been over a year since Ellie O'Neill has seen Graham Larkin. After they said their goodbyes on the beach in Henley, Maine–and Graham jetted off to finish his latest film and press tour–they stayed in touch for a while. Phone calls, text messages, and constant emails. But eventually, their emails stopped being personal and started to seem sort of emotionless, and they faded to nothing after a while.
Now, Ellie is a freshman at Harvard, and she only keeps up with Graham by glancing at the tabloid headlines. One weekend, Ellie uncharacteristically joins her roommate on a trip to New York City. When she sees a commotion near the Ziegfield Theatre, without even really knowing what's going on, something tells Ellie that Graham is nearby. And she's right. As fate would have it, she's stumbled upon the premiere of the movie that brought them together.
Almost immediately, Ellie has the urge to run. Part of her desperately wants to see Graham, but another part is scared of what might happen if she comes face-to-face with him once again. As it turns out, that decision is kind of taken out of her hands.
Ellie and her friends are invited into the premiere, and, soon enough, there he is. Graham Larkin. He finds Ellie in the crowd, and insists they talk about the past year. What follows is a spontaneous trip through Manhattan, a trip where Ellie and Graham clear the air about why they stopped communicating, what's been happening in their lives…and where they go from here.
Can Ellie and Graham find the happiness they felt last year in Henley, or has too much passed between them? Does this one extraordinary, fateful meeting have the power to bring them back together, or will this be their final goodbye?
_______________
If This Is What Happy Looks Like was a little too open-ended for you (as it was for me), Happy Again definitely gives a bit of closure. But even this story leaves readers with some questions about whether Ellie and Graham will end up together. The ending in this one isn't completely nice and neat, either. I like to think that things will work out for Ellie and Graham this time around, that they're willing to work to be together, but that's not crystal clear. And that's okay. This gives me–and other readers–the opportunity to continue the story for ourselves, in whatever way we like.
All in all, I found Happy Again to be a pretty satisfying conclusion (?) to the unlikely love story of Ellie and Graham. Will we hear more from this duo? I have no idea, but I like to think that, whether their story continues in print or not, that they've found happiness together once again.
If you'd like more information on Happy Again, This Is What Happy Looks Like, or other books by Jennifer E. Smith, visit the author's website and Twitter. For what it's worth, I've yet to encounter a book by this author that I didn't like. I hope you feel the same way.