The title of this book alone should have told me that I would love it. (I did.) I am an unapologetic band geek, and I probably always will be. Notes from an Accidental Band Geek allowed me to relive some of the happiest memories of my adolescence, and I imagine that any former or current marching band members will feel the same. This book could also show prospective band members–and maybe even those who look down on this bunch of dorks (I'm looking at you, Jim Rome)–just how awesome marching band really is. Seriously, band geeks are the coolest people in any school, and no one will ever convince me otherwise.
Now, on with the show…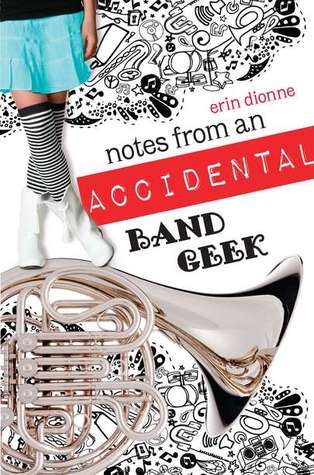 Elsie Wyatt lives and breathes music. Her main goal in life is to take over her father's position as principal French horn player for the Boston Symphony Orchestra. She's just got a few things to get through first…like band camp.
As part of the requirements for the prestigious Shining Birches summer music camp, Elsie must take part in a musical ensemble. For Elsie, that means joining her new high school's marching band. She's confident in her ability to play her horn, but that confidence takes a big hit on her first day of band camp. Not only is she encountering a musical culture that she never expected–one in which she's humiliated before things even get started–but she's also being forced to trade in her gorgeous French horn for a mellophone, a poor substitute that will require her to essentially start from scratch. Yeah…this is going to be a blast.
Now, Elsie must worry about perfecting her audition piece for Shining Birches as well as learning a new instrument, marching techniques, even more music, and navigating the tough waters–and friendships–that come with entering high school. And the friendship thing seems to be the hardest thing for Elsie to handle. Her horn has always been her best friend, and she doesn't really know how to really talk to people, how to focus on someone other than herself, or how to control her temper when she's having a troubles (musical or personal). She has to find a way to be a better friend, something that is becoming more and more important to her.
Even as Elsie is learning–and loving–more about the marching band and the friends she's making, she's still struggling with the pressure to be great. While part of her really wants to hang out with her band friends and let loose a little, she knows she must stay focused if she wants to earn a spot at Shining Birches and prove to her father that she's a worthy, serious musician. She knows he doesn't think she has what it takes, and Elsie will do just about anything to prove him wrong.
All of her intense focus, though, is turning Elsie into someone she doesn't like or even recognize. (The people around her aren't so crazy about her, either.) She's snapping at everyone, even the people who would be there for her if she'd only let them, and her increasing anxiety is about to cause her to break. And when one more thing is added to Elsie's already full plate, she has to decide whether she'll rise to the occasion or buckle under the pressure.
Join Elsie in the wonderful world of marching band–band camp, rehearsals, passing out, bizarre rituals, parades, football games, competitions, pranks, bus rides, and much more–and learn how the one thing she thought would be nothing more than a means to an end has the power to change her entire life.
_______________
My time with the marching (and concert) band was my favorite part of school. Most of my friends were in the band, and I spent every spare moment with them in the band room. I have so many fond memories of band camps, football games, and competitions, and I still try to take in at least one marching band or DCI (Drum Corps International) competition every year. (I've blocked out most of the sunburn, dehydration, soreness, yelling, running laps, crying, and all the other not-so-great stuff that comes with being part of this tight-knit group of awesomeness.) Not to be too melodramatic or anything, but marching band is a way of life, and it's something that stays with you long after your last show. Erin Dionne, the author of this amazing book, totally gets that.
If I have any issues with this book, it's with the main character herself. I just wanted to knock Elsie upside the head sometimes. (If I'd been her section leader, I probably would have.) She was just so mean to everyone around her, and, at least until the end, she didn't see how her words and attitude impacted those around her. I know she had to display some personal growth throughout the course of the book, but, man, was that journey ever rocky. (Her parents didn't help matters, either, but I'll leave that for you to discover on your own.)
Even with my desire to give Elsie a good wallop, I confess that I absolutely adored this book, and I will be recommending it to all of my fellow band geeks. I think it's safe to say that Notes from an Accidental Band Geek will give every one of them some pretty awesome flashbacks. I know it did for me.*
For more information on Notes from and Accidental Band Geek and author Erin Dionne, check out her website and Twitter. Enjoy!
*Sadly, my time in the band came before digital photography was huge, so I have very few pictures of these wonderful moments. Here's one, though, that I'm willing to share with the masses.
Yep, that's me in all my seventeen-year-old glory. I was tuba player and Band Captain for the Mustang Regiment of Palmetto High School. I loved every minute of it.*