I finished reading Vanishing Girls by Lauren Oliver about fifteen minutes ago, and I'm still processing what happened, so bear with me. I may end up working out my feelings on this book throughout the course of this post. (That happens quite frequently, to be honest.)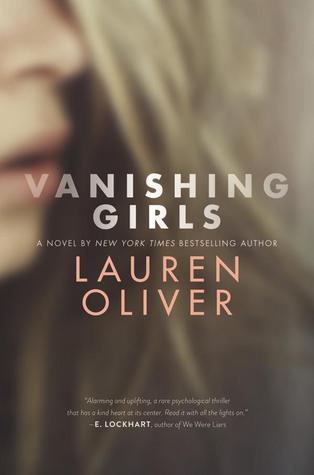 In Vanishing Girls, we meet sisters Nick and Dara. Their story, told in Before and After increments, details a rather tumultuous relationship. The sisters were once very close, but jealousy, fighting, relationships, self-destructive behaviors–and, eventually, a horrible accident–tear the girls apart.
Nothing is the same after the car accident that built an impenetrable wall between the sisters. Nick, who is moving back in with her mother for the summer, wants to repair her relationship with Dara, but her sister seems to excel in the art of avoidance. Their paths never cross, but Nick continues to look for a way back to her sister.
While Nick is searching for a way to reconnect with Dara, there's another search underway in their town. Madeline Snow, a nine-year-old girl, has gone missing. Everyone is on alert, and as the hours and days pass, the story continues to grip the community. Where is this young girl? What happened to her? How could she have vanished without a trace? Surely someone knows something, but the girl is nowhere to be found.
After Dara vanishes on her birthday, Nick is convinced that her disappearance is somehow linked to Madeline Snow's. She goes on a hunt for clues into Dara's life, and she's shocked by what she finds. Apparently, Dara's been involved in much more than the occasional experiments with drugs and alcohol. She gotten mixed up in a horrible situation, something with the power to ruin her entire life.
What drove Dara to something like this? Could Nick have done something to stop it? What does Dara have to do with Madeline Snow's disappearance, and can Nick uncover the whole truth–including what really happened on the night of that fateful car accident–before she loses everything?
_______________
Okay…after writing all of that, I'm still not sure how I feel about this book. It was good (as are Lauren Oliver's other books), and it definitely kept me eager to turn each page, but I guess I simply wasn't expecting the twist at the end. No, I'm not going to reveal anything major, but I will say that I now want to read the entire book again so that I can look for clues that I missed the first go-round.
Vanishing Girls isn't a light and fluffy read that you can simply finish and forget. This book is sure to keep readers thinking long after the last page, and I think a lot of interesting discussions could result. (This would be a good pick for a YA book club.)
I do think this book is more suited to an older teen audience, mainly because of the frank depictions of alcohol and drug use and some sexual situations. As always, read the book yourself before adding it to any classroom or library collections. What works in one collection may not be a good fit for another.
If Vanishing Girls sounds like it might be your cup of tea, you can learn more about it on Lauren Oliver's website. You can also connect with the author on Twitter, Facebook, Goodreads, and YouTube. Enjoy!