Even though I've felt like absolute crap for the past couple of days, I did manage to finish another of this year's South Carolina Children's Book Award nominees, Gabriel Finley & the Raven's Riddle by George Hagen. (Only two more to go!)
This book, suitable for upper elementary grade readers on up, is a fantastical tale full of mystery, peril, and riddles. It's a great book for those readers who've exhausted the Harry Potter series and are looking for something similar. And given how this book ended, I'm hopeful that we'll see more of Gabriel Finley and friends in the future.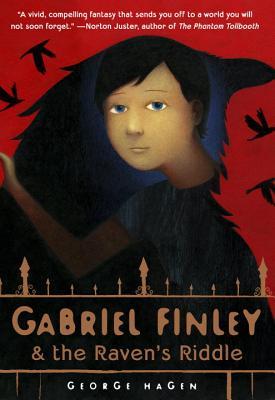 Gabriel Finley's father, Adam, has been missing for several years. Gabriel lives in Brooklyn with his aunt, but he never stops wondering what happened to his father. Soon, though, Gabriel will begin to solve the riddle of his missing father…and so much more.
When Gabriel discovers that he can communicate with ravens–who are the most intelligent of all the birds–secrets begin to be revealed. As it turns out, his dad shared this gift, and it could have something to do with his disappearance. Gabriel's dad worked with his own raven companion, or amicus, to hide a powerful object from the valravens (cursed, fiendish birds) and their leader, Corax, a being who is half-man, half-valraven…and Gabriel's uncle.
With the help of his own amicus, Paladin, and several friends, Gabriel begins to unravel the truth of what his uncle is seeking and the whereabouts of his father. The journey involves untangling riddles, battle with a magical, music-loving desk, and learning about the Finley family's secrets. Gabriel is determined to find his way to his father, but forces are at work that are equally determined to stop him.
Is Gabriel ready to descend into Aviopolis, Corax's horrifying domain, risking the lives of himself and his friends, to prevent Corax from ruling both above and below the surface? Will he be able to rescue his father, save himself and his friends, and defeat the evil Corax? Read Gabriel Finley & the Raven's Riddle to find out!
---
I barely touched on my favorite part of this book–the riddles. To a word nerd like myself, they were fun and entertaining, and I loved that saving the world in this book relied more on using one's brain than relying on brawn. I'm hoping my students have as much fun as I did figuring out the answers to the riddles, and I think reading this book could lead to readers crafting their own riddles.
As of right now, there's no word on future Gabriel Finley books, but I'll definitely be on the lookout. There are several mysteries in Gabriel's life that are yet to be solved, and I, for one, would love some answers. In the meantime, if you'd like to learn more about this great fantasy, visit the Gabriel Finley website. Enjoy!